News Letter 5858-032
The 6th Year of the 4th Sabbatical Cycle
The 27th year of the 120th Jubilee Cycle
The 11th day of the 8th month 5858 years after the creation of Adam
The 4th Sabbatical Cycle after the 119th Jubilee Cycle
The Sabbatical Cycle of Sword, Famines, and Pestilence
The 3rd year Tithe
October 08, 2022
Shabbat Shalom to the Royal Family of Yehovah,
Yehovah continues to open the doors wide here in the Philippines. Yes I know I said this last week and it is just as true this week as it was then.
Rev 3:7  And to the angel of the church in Philadelphia write: He who is holy, He who is true, He who has the key of David, He who opens and no one shuts; and shuts and no one opens, says these things:
Rev 3:8  I know your works. Behold, I have given before you an open door, and no one can shut it. For you have a little strength and have kept My Word and have not denied My name.
It is so exciting for Dennis, Aike, myself and all those with us as we watch in amazement at the favour we are being shown and just how high that favour is going. It is really amazing. Those leading the pastors are all interested in our message. They are not concerned about our differences but they too see the signs of the time and until we explained it they did not fully understand just how close we are to the end.
THIRD YEAR TITHE
Third Year Tithe
I want to remind and ask you all, have you remembered the widows and the orphans this year thus far? We are now in the 6th month. Many of you have supported this cause and I want to thank you on their behalf. I will keep reminding you about this responsibility for the entirety of this year. But this year does not end until Aviv, 2023. So we are not yet halfway. And having now sent out another payment to the widows, I can tell you that we have dropped off by about 60% in our support of this cause.
Let me share with you what one widow recently wrote to me about the recent flooding in Kentucky. Notice how your generosity towards this Widow was used to help those in that flood.
Thank you Bro Joe for all your efforts to be a blessing which I for one truly appreciate. And pray Father will bless you 1000fold in return. The devastation an hour from me is so hard to fathom. I found out today that a couple of sisters I had gone to church with and had moved back home to Hazard lost everything but what one could put in 2 Walmart bags. I wanted to help in some way but did not know what I could do until I saw their post, So was able to give them 100$. The sister I gave it too had come back to London to stay with a friend and replied you don't have this to give – but I told her, Yes, I do. I have been blessed and I will bless you. An answer to prayer for me as I wanted to help somehow. My son just came and told me that he had heard that there have been some suicides by those who have lost everything. So sad for everyone, especially to the family who had 4 children torn away from them. As bad as this is, I know worse is coming.
Brethren I do want to encourage you not to let up in your support. We all want to receive the blessings, which only come when you comply with the law. This 6th year is the prelude to the 7th year of rest. The Sabbatical year also has things that you are to do to be in compliance with the Kingdom laws. 2024 is the start of the 10 Days of Awe and you do not want to be found out of His Grace at that time.
2022 is the 6th year of the 4th Sabbatical cycle. And anyone who has been reading our website for any time will know how to prove beyond all doubt when the Sabbatical and Jubilee years are. Once you have done that then you will know when the 3rd and the 6th year of the Sabbatical Cycles are. We are told to raise a tithe every third year for the widow, the orphan and the Levite in your gates.
Here is a very severe warning from Yehovah to each of us.
Exo 22:21  You shall neither vex a stranger nor oppress him, for you were strangers in the land of Egypt. You shall not afflict any widow or fatherless child. If you afflict them in any way, and they cry at all to Me, I will surely hear their cry. And My wrath shall become hot, and I will kill you with the sword, and your wives shall be widows, and your sons fatherless.
We have now sent out  (as of June 20, 2022)  our 4th round of gift offerings that you have sent in for the widows and orphans. We have also supported a couple of other ministries that aid us in doing this work. This will fulfill the Levite part of the commandment. It was our desire to get the funds to them as we are told to do in Deuteronomy.
Deu 14:28  At the end of three years you shall bring forth all the tithe of your increase the same year, and shall lay it up inside your gates.

Deu 14:29  And the Levite, because he has no part nor inheritance with you, and the stranger, and the fatherless, and the widow, who are inside your gates, shall come, and shall eat and be satisfied, so that Jehovah your God may bless you in all the work of your hand which you do.
We will soon be making another gift to them. If you do not know of anyone in the faith who is a widow or orphan then you can send it to us. Make sure you write me to let me know that those funds are for the widows and I will see to it they get it. But if you do not write me then I will not know where to apply your donation.
May each one of you who has given to this cause, be blessed as Boaz was blessed by Yehovah for his generosity. May each one of you be known for your support of the laws that will make the Kingdom of Yehovah strong and righteous. And may Yehovah bless you so that what you give is never missed and you never lack for your generosity towards Yehovah's heart.
PROMOTIONS
Promotions
We will be promoting ads, books, and upcoming meetings in this section. I hope you will check it each week, copy and paste it to your social media pages, and help us share this message. We need each of you to help here as much as possible. Make sure you copy the blurb for each ad when you do. Thank you in advance.
You can take each promotion and share it with your loved ones. They might start to watch. You can enter their names and they would have to confirm that they're interested. But you can plant the seeds by putting these promotions on your social media page and sharing them with the ones you care about.
We are working on more promotions for the Ten Tribes of Israel, Heaven, Hell and It Was A Riddle Not A Command.
They all take a lot of work and James and I are going as fast as we can with them. When you do see a mistake, let us know so we can try to fix it.
---
The Elijah Trilogy
The Abomination that Makes Desolate, is written. It is partly edited. We need to go through this once again and possible add a little more content.
The 10 Days of Awe, was written in draft. It needs to be organized and the writing finalized. Once this is done then it will need to be edited. I see this coming out in 2023. Do keep us in your prayers. I have a lot on my plate and I do need to get this out ASAP. 2023 and 2024 are right in front of us and this book deals with those things that come at that time.
The Restoration of All Things
The Restoration of All Things. Here is the link you can post on your page and help us to begin to promote this book everywhere we can.
Before Messiah Yehshua can come, Elijah must restore all things. What are those things that need to be restored? Have they happened yet? What was lost and when? When was it restored and by whom? Are you watching the right things in your walk?
https://sightedmoon.org/restoration-of-all-things
---
The Mark of the Beast
Do you know what the Mark of the Beast is? If you have it read what Revelation 14 says: Rev 14:9 And a third angel followed them, saying with a great voice, If anyone worships the beast and its image, and receives a mark in his forehead or in his hand, Rev 14:10 he also will drink of the wine of the anger of God, having been mixed undiluted in the cup of His wrath. And he will be tormented by fire and brimstone before the holy angels, and in the presence of the Lamb. Rev 14:11 And the smoke of their torment goes up forever and ever. And they have no rest day or night, those who worship the beast and its image, and whoever receives the mark of its name. Get the article, and let us show you exactly what that Mark of the Beast is. Once you know it, then you can defend against it. Here is the FREE offer. Just click on the link, and you will receive the PDF immediately. https://sightedmoon.org/mark-of-the-beast-free-offer Shortly after this, you will be sent the other article on what the number 666 actually does mean. And once you see it, you will be stunned. If you can't wait for this article to be sent, then here is the link for it as well. https://sightedmoon.org/the-bis-mallah-666 Read them both and tell others about what you now know. https://sightedmoon.org/newsletter-signup55469575
---
The Key To End-Time Prophecy is the Jubilee Cycles
The Key To All End-Time Prophecy is the Jubilee Cycles. With the understanding of when every Sabbatical and Jubilee year was throughout history, you can then begin to see patterns develop of when Yehovah brought about major historical events. When you know when the Flood took place in that Jubilee Cycle, you can compare it to our current 120th Jubilee Cycle. Then when you do the same for the time of Lot, and read the scripture in Luke, you can get an idea when the Kingdom of Yehovah will be set up.
The Coming of the Kingdom
Luk 17:20 And being asked by the Pharisees when the kingdom of God would come, He answered and said, The kingdom of God does not come with observation. 21 Nor shall they say, Lo here! or, behold, there! For behold, the kingdom of God is in your midst. 22 And He said to the disciples, The days will come when you will desire to see one of the days of the Son of Man, and you shall not see it. 23 And they shall say to you, Lo, here! or, behold, there! Do not go away, nor follow. 24 For as the lightning which lights up, flashing from the one part under heaven, and shines to the other part under heaven, so also shall the Son of Man be in His day. 25 But first He must suffer many things and be rejected of this generation. 26 And as it was in the days of Noah, so it also shall be in the days of the Son of Man. 27 They ate, they drank, they married wives, they were given in marriage, until the day that Noah entered into the ark; and the flood came and destroyed them all. 28 So also as it was in the days of Lot: they ate, they drank, they bought, they sold, they planted, they built; 29 but the day Lot went out of Sodom, it rained fire and brimstone from the heaven and destroyed them all. 30 Even so it shall be in the day when the Son of Man is revealed. 31 In that day he who shall be on the housetop, and his goods in the house, let him not come down to take them away. And likewise, he who is in the field, let him not return to the things behind. 32 Remember Lot's wife. 33 Whoever shall seek to save his life shall lose it, and whoever shall lose his life shall preserve it. 34 I tell you, in that night there shall be two in one bed, the one shall be taken, and the other shall be left. 35 Two shall be grinding together, one will be taken, and the other left. 36 Two shall be in the field, one will be taken, and the other left. 37 And they answered and said to Him, Where, Lord? And He said to them, Wherever the body is, there the eagles will be gathered together.
Our books are based on understanding the Jubilee Cycles and how they reveal many end-time prophecies. You must also have an in-depth understanding of the Holy Days. To learn more sign up for our Newsletter at https://sightedmoon.org/newsletter-signup55469575
---
The Mystery of the Jewish Rapture 2033
There are many people who kept Pentecost Sunday last weekend. Some are doing so this weekened June 12. Are you aware of the deep meaning of this day? If you did you would not be wondering when the Rapture would be. You would know for sure.
Come let us show you the deep meaning behind this Holy Day and how the understanding of it is revealing so many other truths. Order the book today and begin to learn these things right away.
---
The Riddle Rapture Book Offer
Once you understand the Sabbatical and Jubilee Cycles then you will begin to understand prophecy unlike you have ever understood before. When is the Messiah coming? When is the Rapture?
Jesus spoke in parables so that those who would not obey would not understand. If you do not know when the time of HIs coming is, and when the Saints will be raised or changed in a twinkling of an eye, then maybe, just maybe you are one of those who will not obey.
Those who do obey know. Order both books today and begin to understand unlike you have dreamed of before. Order them both now.
Here is what one person wrote who read the book.
I love the enormous amount of Scripture the author uses in teaching and making a point. Taking a single verse out of context can totally skew the understanding (case in point, Psalm 10:4 and 14:1 both say that there is no God). Instead of leading his readers to his belief system, Mr Dumond lets the Bible lead the way! He just connects the dots.
There were so many Bible verses I never understood, despite many years of Sunday School and Bible studies. Many actually seemed to contradict each other. Once I learned that the Bible uses idioms it made such a difference in my understanding. In English we say things like "killing time" or "kicking the bucket" and recognize that they express something other then the sum of the individual words. Turns out that Hebrew (the language the Creator chose to record His words) uses many idioms also. Recognizing what they mean opened up my understanding!
I'm about to go thru this book a 2nd time as there is SO much I didn't get it all the first time!
Order your copy today. Start to read it right now.
---
THE MARK OF THE BEAST – FREE
Like many of you, I have read so many different ideas as to what the "Mark of the Beast" is. This "Mark" has been said to be the social security cards, or credit cards, then it was thought to be the barcode system, which is largely how we all shop today, but this ISN'T even on our hands or foreheads as the scriptures state! Then it was the RFID chip planted in our hands that caused an uproar.
Our Bibles explain this if we would just read it. Let me explain this to you. This is FREE.
https://sightedmoon.org/mark-of-the-beast-free-offer
Once you have read the Mark of the Beast then you will be sent an email to read The Bismallah 666. So you must sign up for one to get the other.
---
Just for Fun
Sing the song with the music and with the whole family. Have a little fun as you do it.
Looking for more lines if you are so inclined. Leave them in the comments.
Y'all have some fun now y'hear.
Tune in and watch many of our other teachings about the Sabbatical and Jubilee and the importance of understanding the calendar and begin to understand just how close to the end of this age we are.
---
The Sabbatical and Jubilee Cycles reveal End-Time Prophecy
By understanding the Sabbatical and Jubilee Cycles, you can know when the 7th Millennium will begin. You can also know when the Rapture will be. When the Messiah is going to come.
It is the only way you can understand the Daniel 9 prophecy. Because of this, we were the only Ministry warning you about 2020. We have been shouting out that WAR would start, famines would start, and Plagues would start in 2020 and in this 4th Sabbatical Cycle. We have entered the start of WW III; famines are on the Nightly News, and COVID has rocked the world.
I am still shouting this warning, but the next curse is too unbearable to say.  What is coming is so horrible that you do not want to know it. But it is coming non the less. Worldwide Drought, Worldwide Famine, and Genocide on an unimaginable scale.
Join our weekly Newsletter to be kept up to date and consider learning more about the Sabbatical and Jubilee Cycles from our books.
SABBATH MEETINGS
Sabbath Meetings
There are many people in need of fellowship and who are sitting at home on the Sabbath with no one to talk to or debate with. I want to encourage all of you to join us on Shabbat, and to invite others to come and join us as well. If the time is not convenient then you can listen to the teaching and the midrash after on our YouTube channel.
What are we doing and why do we teach this way?
We are going to discuss both sides of an issue and then let you choose. It is the work of the Ruach (Spirit) to direct and to teach you.
The medieval commentator Rashi wrote that the Hebrew word for wrestle (avek) implies that Jacob was "tied", for the same word is used to describe knotted fringes in a Jewish prayer shawl, the tzitzityot. Rashi says, "thus is the manner of two people who struggle to overthrow each other, that one embraces the other and knots him with his arms".
Our intellectual wrestling has been replaced by a different kind of struggle. We are Wrestling with Yehovah as we grapple with His Word. It is an intimate act, symbolizing a relationship in which Yehovah and I and you are bound together. My wrestling is a struggle to discover what Yehovah expects of us, and we are "tied" to the One who assists us in that struggle.
Today, many say Israel means "Champion of God", or better — the "Wrestler of God".
Our Torah sessions each Shabbat teaches you and encourages you to constantly challenge, question, argue against, as well as view alternative views and explanations of the Word. In other words, we are to "wrestle with the Word" to get to the truth. Jews worldwide believe that you need to wrestle with the Word and constantly challenge Dogma, Theology, and views or else you will never get to the Truth.
We are not like most churches where "The preacher talks and everyone listens." We encourage everyone to participate, to question and to contribute what they know on the subject being discussed. We want you to be a champion wrestler of the Word of Yehovah. We want you to wear the title of Israel, knowing that you not only know but are capable of explaining why you know the Torah to be true with logic and facts.
We have a few rules though. Let others talk and listen. There is no discussion about UFO's Nephilim, Vaccines or conspiracy-type subjects. We have people from around the world with different world views. Not everyone cares who is the President of any particular country. Treat each other with respect as Fellow wrestlers of the word. Some of our subjects are hard to understand and require you to be mature and if you do not know, then listen to gain knowledge and understanding and hopefully wisdom. The very things you are commanded to ask Yehovah for and He gives to those who ask.
Jas 1:5  But if any of you lacks wisdom, let him ask of God, who gives to all liberally and with no reproach, and it shall be given to him.
We hope you can invite those who want to keep Torah to come and join us by hitting the link below. It is almost like a Torah teaching fellowship talk show with people from around the world taking part and sharing their insights and understandings.
We start off with some music and then some prayers and it's as though you were sitting around the kitchen back in Newfoundland having a cup of coffee and all of us enjoying each other's company. I hope you will grace us with your company someday.
Sabbath services begin at 12:30 PM EDT where we will be doing prayers songs and teaching from this hour.
Shabbat Services will begin at about 1:15 pm Eastern.
We look forward to you joining our family and getting to know us as we get to know you.
Joseph Dumond is inviting you to a scheduled Zoom meeting.
Topic: Joseph Dumond's Personal Meeting Room
Join Zoom Meeting
https://us02web.zoom.us/j/3505855877
Meeting ID: 350 585 5877
One tap mobile
+13017158592,,3505855877# US (Germantown)
+13126266799,,3505855877# US (Chicago)
Dial by your location
+1 301 715 8592 US (Germantown)
+1 312 626 6799 US (Chicago)
+1 346 248 7799 US (Houston)
+1 669 900 6833 US (San Jose)
+1 929 436 2866 US (New York)
+1 253 215 8782 US (Tacoma)
Meeting ID: 350 585 5877
Find your local number: https://us02web.zoom.us/u/kctjNqPYv0
---
TORAH PORTIONS
Torah Portions
We read through the entire Torah along with the Prophets and the New Testament, once over the course of 3 1/2 years. Or according to the Sabbatical Cycle which means we read it all twice over a 7 year period. This allows us to cover more in-depth rather than being rushed to cover as much as is covered on an annual basis. We allow all to comment and take part in the discussions.
Septennial Torah Portion
If you go to Torah Portion at our archived section, you can then go to the 6th year which is the 6th year of the Sabbatical Cycle, the one we are in now, as we state at the top of every News Letter. There you can scroll down to October 8, 2022, and see that this Shabbat we could very well be midrashing about:
Leviticus 21
Ezekiel 17-19
James 2:14-3:18
If you missed last week's exciting discoveries as we studied that section you can go and watch past Shabbats on our media section.
---
THE PHILIPPINES REPORT - OCT 01, 2022
Philippines update Sept 24, to Oct 3, 2022
We last left you with our picture as we prepared for Shabbat and our teaching in Davao.
We had driven 8 hours the day before from Cagayan de Oro back to Davoa.
On Shabbat, September 24, 2022, I taught for about 8 hours which included the four teachings we have been presenting. The 120 Jubilee Cycles. The Curses. The Role of the Philippines, and the Abomination. This was the same teaching I had done in Cagayan de Oro on Thursday.
Sunday we spent with Dennis's family back in Digos. It was to be a day off. I was to work on my book but it was very difficult with four young boys running around for the day. We did manage to get some of the 2nd book in the Elijah Trilogy book done. I did not get a good sleep Monday night. Sad news from home, had me up during the night.
The next day I chose not to shower and was going to shower at the hotel in Davao where we were going to meet Bishop Romeo, who is head of the Cebu Conference, which is being held on October 1, 2022. With just 4 days left until the conference, I had given up all hope of being able to speak to this group of between 1000 and 3000 pastors from all over the Philippines.
As I slept in the car ride to Davao Aike changed the plans from going to the Hotel to going straight to the restaurant where we would meet the Bishop. I was upset. I was in need of a shower and the comfort room. I did not want to meet this man looking disheveled. But there I was, not happy.
We met the Bishop about 8:30 that night. He came to us after having another meeting. I was prepared to present our case not for this next venue but for one in the future. But I did not present our teaching to this man. He had already made room in the schedule for us to speak and gave us a 30 minute platform to present our teaching to all of those coming. We would follow right after Bishop Benz speaks who just hosted us in Cagayan and Davao. Also word of our teachings were passed on by Bishop Belgica who also endorsed us to Bishop Romeo.
So there I was in my mad mood and Yehovah performed a miracle by having enabled us to speak to this large crowd with just four days notification. WOW. I really need to learn to be less demanding and go with the flow. Now we are off to Manila to see Jeremiah and others and then flying back to Cebu on Friday to prepare for our 30 minute teaching. I now have to take an 8 hour teaching and jam it into 30 minutes. Awesome.
While we wait for the plane to Manila Aike and Dennis are working the phones arranging meetings and teachings. It is all so hectic trying to arrange on short notice and to plan things more than a day or two in advance. I came with no plans, and the more I tried to plan, the more frustrated I got. Learning how to go with the flow and what ever happens happens.
Then when we depart, Dennis's car looses the clutch. We crawl into a repair shop and it is fixed after 3 hours. So I sat in the car and worked on the Abomination book and got most of it done. Then Aike had to bail out and go and sign a land deal for his Goshen project and then head to Zambuonga for a family matter. So he was not going to come to Manila nor be with us in Cebu. I am disappointed as he does a lot of the connections behind the scenes. That is now going to be what Dennis will do. I have complete confidence but I know Aike is like a hound dog when he wants to approach someone.
Dennis and I flew to Manila on Tuesday without Aike. We got a room at the Savoy. The next day we went to a meeting with Atty Jeremiah Belgica and his firm. Elzabeth Rivera also joined us in this meeting. We went into the meeting with our expectations and hopes. We came out of the meeting 3 hours later with our mouths hanging open. Jeremiah introduced about as best a possible introduction as I have had. It was over the top and he then laid out the plans he has for reaching the entire Philippines and how to gain all those needed to make this huge task at hand come together. He literally blew us all away. I must leave the details out of this email as they are substantial and I hope to be able to write you about them when they happen in the future. But for not let me say WOW!!!
After this meeting we were dropped off in some very crowded street and Dennis led me up three or four flights of narrow stairs to a very crowded room with a dozen or so young people who I were waiting for me to teach them. I had no idea. But they were keen and so I began and we went very late as I got into many details I normally do not get into. They wanted to learn and I wanted them to understand everything. This was a very good meeting to be part of. I really enjoyed it.
Thursday we had two meetings lined up. One with Manny Pacquaio and one with Pastor Jesse. All day Thursday we we kept getting text message the meeting was being bumped to a later date. Then the two meetings were now being set up for the same time and then one gets canceled and the other bumped to an even later date. Finally I just canceled. I have arranged and paid for all of us to be here two times now for these two meetings. I will not come again to meet them. They will now have to come and meet me. I know they are important men and they do not know just how important I am to their nation. I get it but I am still frustrated. There are a lot of plane tickets that got used up for this and no fruit. So I am not happy.
I have also been living out of a suit case now for over a month and I may be getting a little tired.
Dennis and I jump on Cebu Pacific again to fly to Cebu Friday monring. By the time we are done I will have bought 12 seats for all the traveling we have now done and all of it with Cebu Pacific Airlines. We got a place close to the venue so we do not have to take a taxi on Shabbat. When we arrived we walked over and the arena has been beaten up by Typhoon Odette last December and is still wearing the scares of that time. No one was there for us to set up the banner so we walked back to the room and planned and reviewed our notes.
I decided to take these pictures of inside the arena and share them in my presentation the next days. These are the signs of a people who are cursed and have been receiving a curse from Yehovah. They say they are blessed but this is not a blessing and I was going to tell them so.
The front panels and the back panels behind where I was going to speak were blown out by the force of the Typhoon and still had not been fixed 10 months later. Again this is the signs of cursed people, not a blessed people.
This is the emergency services building across from the arena and our hotel was on the other side of it. we also walked through the gated community beside us and also behind the emergency response building. Many of the houses there were only now being gutted and renovated, I suspect as a result of the typhoon. Again this is not a blessing.
We came back before Sabbath began and we set up our banner on the stage so everyone could see what I would be speaking about. It also just so happened that in every single picture taken of the stage you would see our huge banner behind every speaker.
Because the other speaker went over their 30 minute time limits it pushed me into the lunchtime period. Bishop Romeo allowed me a little extra time because of the lunch service which they passed out while I spoke. So I took full advantage and spoke for over an hour.  But before I continue I want you to hear how excited they were to just be there. This is the first time they could meet since COVID in 2020.
https://www.facebook.com/100000208024468/videos/1122633682017867/
We had to deal with the morning light shining though the front hole in the building making our screen not very visible. The projector only got working just before I began to speak. And then quit again just before I was finished. Actually two or three slides before I wrapped up. I am not complaining, just explaining. Here is the full teaching.
On Sunday Dennis and I lazed around the pool for the day. We had hoped to meet other pastors to talk with and meet but each one of them once they had presented headed for the door. Pastor Romeo made a point of thanking Dennis and I for staying until the very end and not leaving early. We sat in the front row with the other speakers and by the end we were the only ones sitting there. I felt it very rood to leave and not listen to the other speakers. I felt it sent the exact opposite message to those who came to watch and meet those teaching. It would disappoint them from taking any pictures.
We stayed until the very last speaker. Many local pastors were given 5 minutes to make their case. then some 3 and then the very last speaker. When it was all over we had many people asking for our picture. And instead of saying cheese or one, two, three as most Filipinos say, they all shouted Shabbat Shalom every time. It was awesome. Every picture was now boasting to our popularity so the others could see the crowd around me and hear them shouting Shabbat Shalom. Very cool. Very very cool.
The Sabbath now over Dennis and I took down the banner folded it up and prepared to leave, Again Bishop Romeo thanked us for staying to the end. A young lady who was messianic and so excited to see us there was now helping us clean up. She and others were so thrilled and yet did not know I was going to be speaking. They understood much of what I said. They also said I was the only one who taught them something that day. All the others men were motivational teachers taking the verse out of context. The people were only hyped up but not taught anything. So they said my message was like water to a drought ravaged land.
Dennis Shena and I then went out for super. Dennis then taught her about how to understand the Sabbatical and Jubilee years during supper. It was again a super end to a super great day.
I asked Dennis to write up a report so he could share his views with you. He rushed this one out the door as we waited for his plane to Davao from Cebu. We also said our goodbyes as I was on my way to Manila and we do not know when we will meet again. But we will soon.
it was October 1, 2022 is the date were so excited because we going to share the message to 3000 pastors, bishop and minister for them to know" how we are so close in the end times and what will happen, and how to prepare" this message is so heavy but were praying that they may listened and believe to act by pursuing the scripture and proving them are truth, and also now happening.

Through Jubilee Cycles and daniel's prophecy we could decoded what and when will it happens. This message have reached to all listener during that day and not only that we install also 10×15 " banner in the stage. It create a big impact to them there are many first time to encounter it.

During the event they had many speaker's but hey!, every one who speak during that time had our Jubilee Cycles background ( I really think Joe is Brilliant hehehe) every shot and picture also video had capture the jubilee cycles many people wondering what it is before Joseph Dumond speak.

The event is for gospel first summit so it was really a miracle for us to have there for we are not part of their group or movement but the chairman and organizer bs. Romeo Dela Merced we meet him in davao last week but without explanation he gave Joseph a time to speak in the event, were so happy seeing the moved of Yehovah in our behalf.

When the event goes on there are 2 speaker before Joseph speak motivation like "unity in the body and the great commission " During his time many people are so serious, from laughing to silence not because they are hungry but because of the topic. Joseph Dumond start to point every curses that happen specially in Cebu, many of them don't accept it, they just want to hear the blessing like the other speaker spouting but Joseph is not their typical Prophet. His giving them a bold warning about what to happen and how to be prepared.

But those who believe and listen after Joseph Dumond time they approached him and saying we want to know more, by the way He was only given a very short time to explain from 6 hours teaching to 30 mins. Were having a great day out there knowing Yehovah is in Control of Everything and know as we do our part we know there will be a fruit of this.

There is a lot of happen that I can't put into words you can see it in our picture's. Hoping and believing Yehovah will guide us more and direct our path may Yehovah Bless you more !!
I then flew to Manila, that Monday also. Stayed at the Belmont until Wednesday just working on the book and relaxing. I did not want to trouble any one to come get me and drive me to Aikes with the Manila traffic just to turn around and drive me back for my flight on Wednesday. So we then flew home to Canada. Yes I understand many people are keeping Wednesday or Thursday as Yom Teruah.
So let me repeat what one man once said.
1Ki 18:21 And Elijah came to all the people and said, How long are you limping over two opinions? If Jehovah is God, follow Him. But if Baal is God, then follow him. And the people did not answer him a word.
How long are you going to keep both calendars? How long are you going to follow the crowd? How long are you going limp along in your faith not know which one is right? If the Hillel Calendar created in 358 AD, is the one to use then follow it? But if Yehovah has shown you that the calendar goes by the Barley to begin the year and the crescent moon to begin the month, both of which predate the Hillel calendar, then why are you flipping back and forth between the two?
Let me close with one more scripture.
Jos 24:15 And if it seems evil to you to serve Jehovah, choose this day whom you will serve, whether the gods which your fathers served Beyond the River, or the gods of the Amorites in whose land you live. But as for me and my house, we will serve Jehovah.

Jos 24:16 And the people answered and said, Far be it from us to forsake Jehovah to serve other gods.
Choose this day whom you will serve. Do you seek to follow Jewish traditions or do you want to serve Yehovah on the days when He said to serve Him? As for me. I choose to follow Yehovah and serve Him on the days He commanded us to meet Him. I do not seek unity for unities sake to walk in step with the majority. I will walk with Yehovah according to the times He chooses.
WORLD EVENTS
'Knocking on famine's door': UN food chief wants action now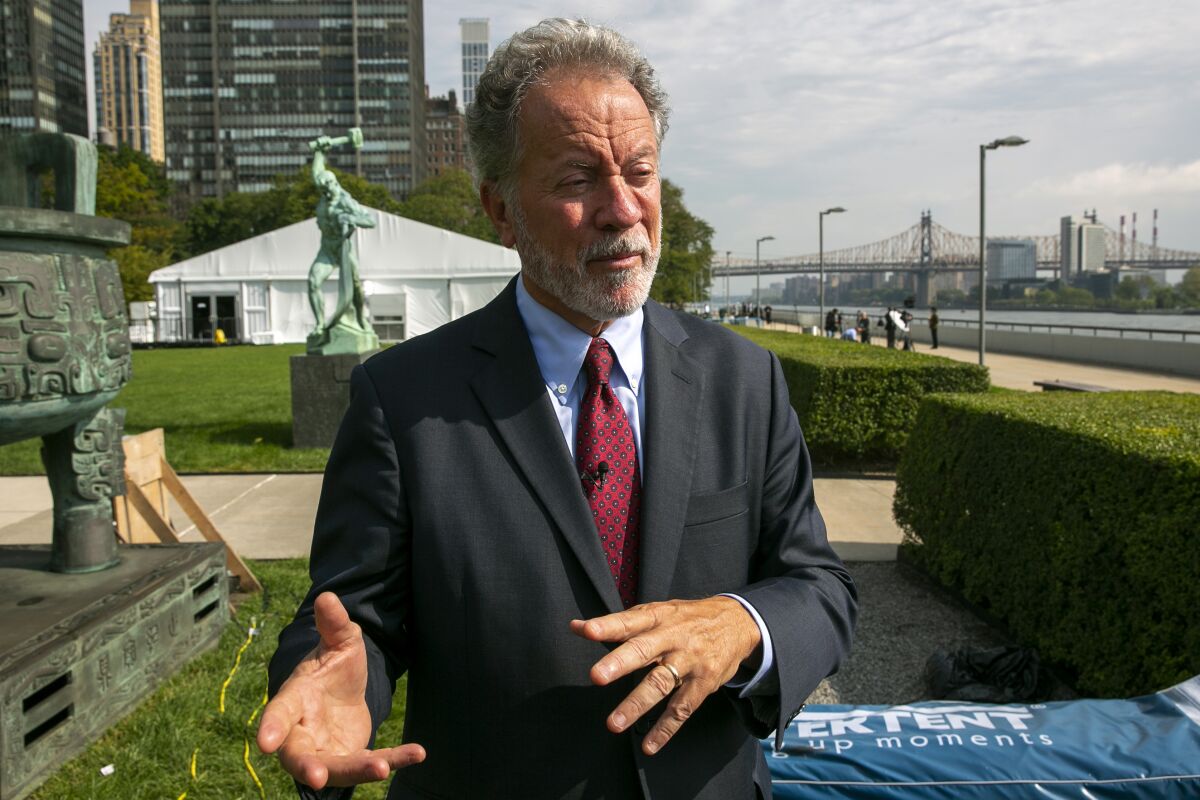 UNITED NATIONS — The U.N. food chief warned Thursday that the world is facing "a perfect storm on top of a perfect storm" and urged donors, particularly Gulf nations and billionaires, to give a few days of profits to tackle a crisis with the fertilizer supply right now and prevent widespread food shortages next year.
"Otherwise, there's gonna be chaos all over the world," World Food Program Executive Director David Beasley said in an Associated Press interview.
Beasley said that when he took the helm of WFP 5 1/2 years ago, only 80 million people around the world were headed toward starvation. "And I'm thinking, `Well, I can put the World Food Program out of business,'" he said.
But climate problems increased that number to 135 million. The COVID-19 pandemic, which began in early 2020, doubled it to 276 million people not knowing where their next meal was coming from. Finally, Russia invaded Ukraine on Feb. 24, sparking a war and a food, fertilizer and energy crisis that has pushed the number to 345 million.
"Within that are 50 million people in 45 countries knocking on famine's door," Beasley said. "If we don't reach these people, you will have famine, starvation, destabilization of nations unlike anything we saw in 2007-2008 and 2011, and you will have mass migration."
"We've got to respond now."
Beasley has been meeting world leaders and speaking at events during this week's General Assembly gathering of leaders to warn about the food crisis.
General Assembly President Csaba Korosi noted in his opening address Tuesday that "we live, it seems, in a permanent state of humanitarian emergency." U.N. Secretary-General Antonio Guterres warned that conflicts and humanitarian crises are spreading, and the funding gap for the U.N.'s humanitarian appeals stands at $32 billion — "the widest gap ever."
This year, Beasley said, the war shut down grain shipments from Ukraine — a nation that produces enough food to feed 400 million people — and sharply curtailed shipments from Russia, the world's second-largest exporter of fertilizer and a major food producer.
Beasley said donor fatigue often undermines aid, particularly in countries in ongoing crisis like Haiti. Inflation is also a serious issue, raising prices and hitting poor people who have no coping capacity because COVID-19 "just economically devastated them."
So mothers, he said, are forced to decide: Do they buy cooking oil and feed their children, or do they buy heating oil so they don't freeze? Because there's not enough money to buy both.
"It's a perfect storm on top of a perfect storm," Beasley said. "And with the fertilizer crisis we're facing right now, with droughts, we're facing a food pricing problem in 2022. This created havoc around the world.
"If we don't get on top of this quickly — and I don't mean next year, I mean this year — you will have a food availability problem in 2023," he said. "And that's gonna be hell."
Beasley explained that the world now produces enough food to feed the more than 7.7 billion people in the world, but 50% of that food is because farmers used fertilizer. They can't get those high yields without it. China, the world's top fertilizer producer, has banned its export; Russia, which is number two, is struggling to get it to world markets.
"We've got to get those fertilizers moving, and we've got to move it quickly," he said. "Asian rice production is at a critical state right now. Seeds are in the ground."
In Africa, 33 million small farms feed over 70% of the population, and right now "we're several billion dollars short of what we need for fertilizers." He said Central and South America also faced drought and India was buffeted by heat and drought. "It could go on and on," he said.
He said the July deal to ship Ukrainian grain from three Black Sea ports is a start, but "we've got to get the grains moving, we've got to get the fertilizer out there for everybody, and we need to end the wars."
Beasley said the United States contributed an additional $5 billion for food security, and Germany, France and the European Union are also stepping up. But he called on Gulf states to "step up more" with oil prices so high, particularly to help countries in their region like Yemen, Syria, Afghanistan and Somalia.
"We're not talking about asking for a trillion dollars here," Beasley said. "We're just talking about asking for a few days' worth of your profits to stabilize the world," he said.
The WFP chief said he also met with a group of billionaires on Wednesday night. He said he told them they had "a moral obligation" and "need to care."
"Even if you don't give it to me, even if you don't give it to the World Food Program, get in the game. Get in the game of loving your neighbor and helping your neighbor," Beasley said. "People are suffering and dying around the world. When a child dies every five seconds from hunger, shame on us."
---
Florida Eastern Canada and the Stock Market all Hammered
I am not going to have time to fill in all the events of the past week here. The Stock market is crashing and it did so almost exactly as Cyrus had warned you in our last interview. You might want to pay more attention to the things we are saying. Here is the last interview we did. Compare it to world events. https://www.youtube.com/watch?v=2pvcg-z-41M&list=PL96wPWNeV3DXJPEsvCLD36mDhOaGCuI8i&index=25
Fiona swept into the East Coast of Newfoundland and swept homes and people out to sea.
Then Hurricane Ian came to visit Florida and did extensive damage there.
When I tell people these things are curses and fall upon those who are not obeying Gods commandments, they begin to attack me and insult me claiming they are good and inocent. There were many pastors in Cebu saying how blessed tehy were as they stood in this arena that has been wrecked by the Typhoon Odette last year. People these are not blessings. COVID was not a blessing in disguise. These are curses sent by Yehovah to people who are not obeying his laws. You can either accept that and change or continue to live in lala land deceiving yourselves. IT IS TIME TO REPENT AND RETURN TO YEHOVAH WITH YOUR WHOLE HEART AND STOP ALL THE B.S. AND LYING TO YOURSELVES AND OTHERS.
---
by Con Coughlin  •  October 3, 2022 at 5:00 am
As one of the signatories of the original Joint Comprehensive Plan of Action (JCPOA), the flawed nuclear deal negotiated by the Obama administration, Russia, as well as China, will ultimately have a say in any new agreement that emerges from the Vienna talks.
Rather than seeking to curb Iran's nuclear ambitions, Beijing and Moscow are more interested in forming an alliance with Iran to counter what they denounce as America's unilateralism, and thwarting "draconian" US sanctions.
Given Moscow's open hostility towards the West, it is abundantly clear that the Kremlin wants to exploit the weakness of the Biden administration to ensure the negotiations provide an even more unsatisfactory deal than the one signed off by Barack Obama in 2015, one that completely fails to address the very real threat Iran's nuclear weapons will pose to the wider world.
From Moscow's perspective, having a nuclear-armed Iran, one that is Russia's ally, will greatly enhance its ability to challenge the West.
In return, Iran has formed a new "axis of evil" with Moscow, providing it with weaponry, such as sophisticated drones, to support its war effort in Ukraine, while at the time providing assistance to Tehran to evade the effects of Western sanctions.
While these two despotic regimes seem determined to forge an ever closer alliance, however, their objectives are completely at odds with the demands of their respective citizens, whose primary concern is securing their freedom, not supporting the military aspirations of the ruling elites.
There is growing concern in Washington that US President Joe Biden is preparing to sign a new deal with Tehran once the midterm elections have been concluded, and that his officials are prepared to sign a far weaker version of the deal than that originally agreed to in 2015.
That would be a grave miscalculation on the part of the Biden administration.
This should be the moment when the US and its allies are intensifying the pressure on both Iran and Moscow, not capitulating to their interests with a weak nuclear deal which will only encourage them to indulge in further acts of aggression against the West and its allies.

From Moscow's perspective, having a nuclear-armed Iran, one that is Russia's ally, will greatly enhance its ability to challenge the West. Pictured: Russian President Vladimir Putin and Iran's President Ebrahim Raisi hold a meeting in Tehran on July 19, 2022. (Photo by Sergei Savostyanov/Sputnik/AFP via Getty Images)

The nationwide anti-government protests sweeping Russia and Iran demonstrate that, despite the efforts of these two rogue regimes to increase the level of military cooperation between Moscow and Tehran, the overwhelming demand of the majority of ordinary Russians and Iranians is freedom from dictatorial rule.

One of the more alarming global developments in recent months has been the deepening cooperation between Moscow and Tehran as they seek to challenge the West on a number of fronts.

Russia has played a key role in supporting Iran's efforts to thwart the negotiating process aimed at reviving the controversial nuclear deal with Tehran since the start of the negotiations in Vienna last year.

While Iran is providing Russia with military equipment to support its war in Ukraine, Russia is supporting Iran's refusal to comply with Western demands to come clean about the true extent of its nuclear arsenal.

As previously reported on these pages, the Russians have actively encouraged Tehran to concentrate on relatively minor issues during the negotiations, such as when and where camera monitors can operate at sensitive nuclear sites in Iran.

By concentrating on what are regarded as peripheral concerns, the Iranian delegation has been successful in steering the talks away from core issues, such as the extent of the progress it has made in enriching uranium to weapons-grade.

As one of the signatories of the original Joint Comprehensive Plan of Action (JCPOA), the flawed nuclear deal negotiated by the Obama administration, Russia, as well as China, will ultimately have a say in any new agreement that emerges from the Vienna talks.

Rather than seeking to curb Iran's nuclear ambitions, Beijing and Moscow are more interested in forming an alliance with Iran to counter what they denounce as America's unilateralism, and thwarting "draconian" US sanctions.

Given Moscow's open hostility towards the West, it is abundantly clear that the Kremlin wants to exploit the weakness of the Biden administration to ensure the negotiations provide an even more unsatisfactory deal than the one signed off by Barack Obama in 2015, one that completely fails to address the very real threat Iran's nuclear weapons will pose to the wider world.

From Moscow's perspective, having a nuclear-armed Iran, one that is Russia's ally, will greatly enhance its ability to challenge the West.

In return, Iran has formed a new "axis of evil" with Moscow, providing it with weaponry, such as sophisticated drones, to support its war effort in Ukraine, while at the time providing assistance to Tehran to evade the effects of Western sanctions.

While these two despotic regimes seem determined to forge an ever closer alliance, however, their objectives are completely at odds with the demands of their respective citizens, whose primary concern is securing their freedom, not supporting the military aspirations of the ruling elites.

In Russia, the latent hostility among ordinary Russians to Putin's kleptomaniac regime has manifested itself in nationwide protests against the Russian leader's attempts to mobilise 300,000 reservists to help support his disastrous military campaign in Ukraine.

Nationwide disgust at Putin's unprovoked assault on Ukraine has seen hundreds of thousands of young Russians fleeing to the borders in a desperate attempt to avoid the horrors of conscription, and being made to fight in a war none of them supports.

In Iran, meanwhile, the death of 22-year-old Mahsa Amini as she was detained in custody by Iran's morality police, allegedly for refusing to wear a hijab, has resulted in Iranians of all ages taking to the streets across the country in mass protests and shouting "death to the dictator", a reference to the country's Supreme Leader, Ayatollah Ali Khamenei.

Iran's security forces have reacted to the anti-government protests with their customary brutality; figures at the time of writing estimate at least 76 people killed in the government's crackdown. Even so, the anti-regime protests have continued to spread, with more than 80 cities and towns affected by the violence since Amini's funeral on September 17.

For many Iranians, the death of Amini, who reportedly died after being struck several times on the head, is the last straw, and the demonstrations represent the biggest anti-government uprising since the 2009 Green Revolution.

The deepening unrest in both Russia and Iran should certainly give the Biden administration pause for thought as it weighs up its next move on the nuclear negotiations.

There is growing concern in Washington that US President Joe Biden is preparing to sign a new deal with Tehran once the midterm elections have been concluded, and that his officials are prepared to sign a far weaker version of the deal than that originally agreed to in 2015.

At a time when both the Russian and Iranian governments are battling nationwide dissent, this would be a grave miscalculation on the part of the Biden administration.

This should be the moment when the US and its allies are intensifying the pressure on both Iran and Moscow, not capitulating to their interests with a weak nuclear deal which will only encourage them to indulge in further acts of aggression against the West and its allies.

Con Coughlin is the Telegraph's Defence and Foreign Affairs Editor and a Shillman Journalism Fellow at Gatestone Institute.

---
For Europe, Biden's 'Armageddon' Warning Can't Be Dismissed
European leaders said Friday that US President Joe Biden's warning about "Armageddon" and Russia's possible use of nuclear weapons shows the seriousness of the threat from Moscow's escalation in Ukraine.
Estonian Prime Minister Kaja Kallas told reporters that Vladimir Putin's nuclear threats should be taken very seriously. "If nuclear weapons are used, then this is a whole new level," she said. "And nobody can win a nuclear war. This is very clear. And I understand those messages have been given to Putin and the Kremlin that you can't win this war."
In recent days, US and other western officials have downplayed the imminent risk of a nuclear weapon being used, saying there were no indications that Moscow is preparing to use its arsenal. The Russian president has renewed his nuclear rhetoric as he announced the annexation of Ukrainian territory, but it echoes similar warnings he has issued since he invaded Ukraine in February.
European Union leaders, meeting in Prague to discuss the war in Ukraine and the bloc's energy crisis, were joined Friday via videoconference by Ukrainian President Volodymyr Zelenskiy.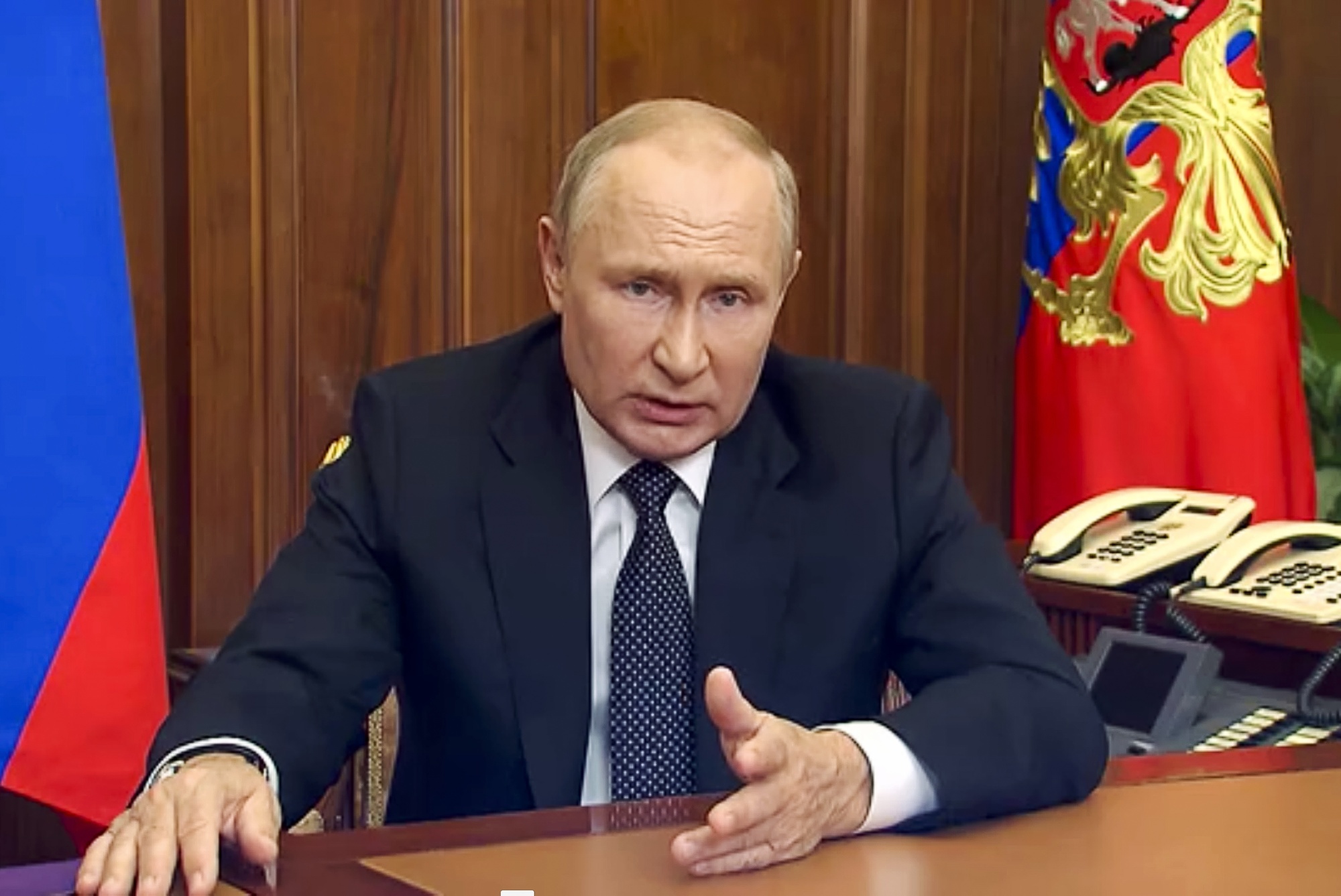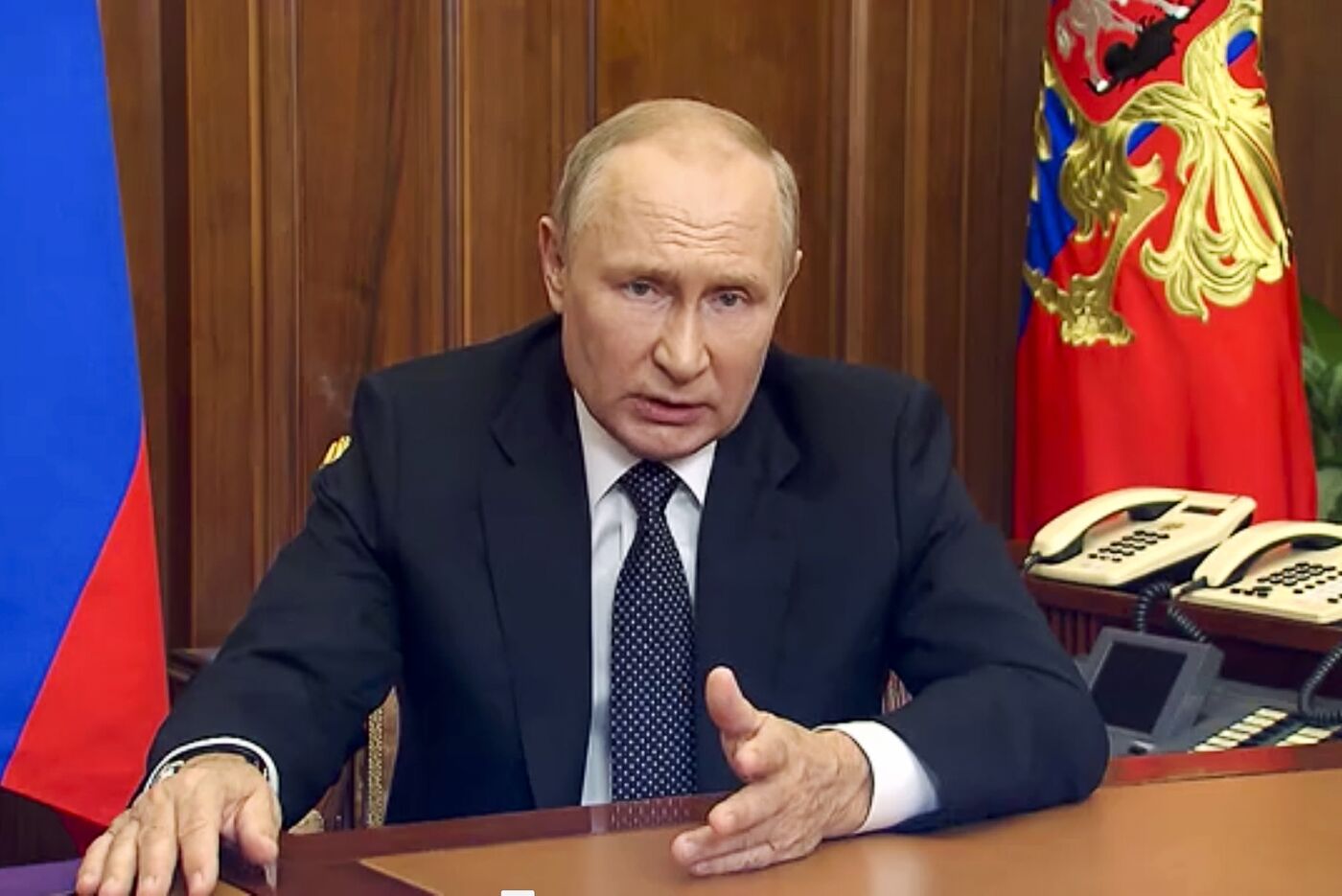 Biden's statement Thursday that even the use of small tactical nuclear weapons could lead to "Armageddon" suggests that Washington is worried that Putin could shift tactics as he continues to suffer embarrassing setbacks in Ukraine.  
Biden Says Putin Threats Real, Could Spark Nuclear 'Armageddon'
With Russian troops steadily losing ground to a Ukrainian counteroffensive, Putin has called up 300,000 reservists and vowed to use "all the means at our disposal" to defend his country, including the occupied parts of Ukraine that he recently annexed. 
The Russian president hasn't explicitly said that means nuclear weapons, but some of his lieutenants have called for employing tactical ones to send a signal of the Kremlin's resolve. The smaller tactical ones would likely take some time to get ready and in position for deployment.
In Putin's Nuclear Brinksmanship, Weapons Leave Room For Warning
"We're trying to figure out what is Putin's off-ramp? Where does he get off? Where does he find a way out?" Biden said at a fundraiser in New York City. "Where does he find himself in a position that he does not, not only lose face but lose significant power in Russia?"
EU leaders have remained united in support of Ukraine, even as Putin's threats have unsettled member nations, particularly in the east. 
"We really need to think there is a kernel of reason still left, that we will avoid nuclear war," said Croatian Prime Minister Andrej Plenkovic.