News Letter 5858-045
The 6th Year of the 4th Sabbatical Cycle
The 27th year of the 120th Jubilee Cycle
The 20th day of the 11th month 5858 years after the creation of Adam
The 4th Sabbatical Cycle after the 119th Jubilee Cycle
The Sabbatical Cycle of Sword, Famines, and Pestilence
The 3rd year Tithe
January 14, 2023
Shabbat Shalom to the Royal Family of Yehovah,
---
Golden, Colorado & Midland, Texas
Last Sabbath, January 7, 2023, I spoke in Golden, Colorado, to a packed house. I had not expected to have that many people show up. They counted about 55 people there and almost all of them stayed right to the end which was 4 hours later.
This group was excited to hear what I had to say and once I began to speak they were very engaged. I remembered everyone's names and spoke directly to them during the meeting asking them for the answers to my questions. We had a lot of fun. This was a great group to speak in front of. It has been another extremely busy week, so I will not tell you all about the meeting, but I will let you watch it on our YouTube channel. Please do watch it and share as well as like it, so you YouTube will help put it in front of others that might also like it. YouTube learns this from your likes and comments.
After Colorado, I headed to Midland, Texas with Randy Cates to do this same teaching at GLC, God's Learning Channel. https://www.glc.us.com
You can learn much about the station at the link above. Below is from Wikipedia.
God's Learning Channel (GLC) is a religious satellite network based in West Texas which teaches a biblical point of view of Judaism. The network was founded in 1982 by Al and Tommie Cooper, who had the vision to bring Judaism to Southeastern New Mexico. The network later grew to five television transmitters located in New Mexico and West Texas. While the focus of programming has been to teach believers their ties to the Bible and the spiritual world, it has continued to expand to cover a wide range of themes related to the Land of Israel and the Jewish people, presenting Jesus, in Hebrew pronounced Yeshua, as the Jewish Messiah.

GLC provides 24-hour streaming media of its broadcast (accessible through the GLC website), as well as internet platforms, such as Roku.

Stations

Satellites
Alexa was our producer and she was awesome. I asked her ton of questions about what I could and could not do or say. She has given us an open door to do all we wanted. A very green green light.
Rev 3:7  And to the angel of the church in Philadelphia write: He who is holy, He who is true, He who has the key of David, He who opens and no one shuts; and shuts and no one opens, says these things:

Rev 3:8  I know your works. Behold, I have given before you an open door, and no one can shut it. For you have a little strength and have kept My Word and have not denied My name.

Rev 3:9  Behold, I give out of those of the synagogue of Satan, those saying themselves to be Jews and are not, but lie; behold, I will make them to come and worship before your feet, and to know that I have loved you.

Rev 3:10  Because you have kept the Word of My patience, I also will keep you from the hour of temptation which will come upon all the habitable world, to try those who dwell upon the earth.

Rev 3:11  Behold, I come quickly. Hold fast to that which you have, so that no one may take your crown.

Rev 3:12  Him who overcomes I will make him a pillar in the temple of My God, and he will go out no more. And I will write upon him the name of My God, and the name of the city of My God, the New Jerusalem, which comes down out of Heaven from My God, and My new name.

Rev 3:13  He who has an ear, let him hear what the Spirit says to the churches.
Our first day, I was a bit nervous. But we set up our large 10 x 20 banner of all 120 Jubilees so the audience could then see just how much time has passed. We explained on this first day about the 2 Kings 19:29 and how it reveals all the sabbatical and Jubilee cycles throughout history. We then shared our proofs and even about Rabbi Rambam confirming our chronology. After this we began to show the audience, which was Alexa and three cameras about the Daniel 9 prophecy and how it shows that when you count from the Exodus to David is the first 7 weeks, or 7 shabua, or 7 x 49 in that Daniel 9 prophecy.
In the second hour of our video recording, we walked the viewers through the 5 curses of Leviticus 26. And that pretty much took up the entire hour. I have one hour per shoot.
That was a wrap for the day and then Alexa wrote us afterwards to tell us just how much she learned and enjoyed our teaching that first day. Her face showed she was amazed and shocked at the same time at all the information we had just shared. Information she and most have never heard before. She told us a number of times just how much she loved everything we had shared so far and she was excited to see what we were going to present the next day.
On my 65th birthday January 11, we went back to GLC to do our third and fourth video recordings. Again I was very nervous. It felt like I was in the starting blocks of a 100 meter dash. Stomach in knots waiting to get started.
Alexa again confirmed that I had green lights today to say and use the expressions I wanted. So this day as I explained the Abomination and how it was connected to COVID in 2020, I told the viewers about Chammichah and Chammisheith. This was followed by explaining how their syncretism of Yehovah's word with all this other teaching they are adding to the Torah was also Chammasheith.
Our fourth and final teaching was about Two Witnesses and the Paranymph as well as the Ten Virgins. We got it all in with time to spare. Danny who runs the control room came out this time with a smile on his face and he wanted to shake my hand and thank me for saying what I did. He said I nailed it and was pleased to hear what I said. He was not paying attention the first day trying to get all the things he does correct. But he did hear me the second day. Alexa too was impressed with all the dots I was connecting for her. So it was a good day also. There may be more follow up teachings from this. We will wait and see what comes once this is released.
So a very happy birthday gift to me after all. All praise goes to Yehovah. WOW thank you. Yehovah for allowing us to be part of this work at this time. JUST WOW.
I also want to send out a special thanks to Randy Cates who drove me the 4 1/2 hours to Midland and back to the airport three days later. He has helped me in much of this work behinds the scenes. Thank you.
In Golden we had Shane and Anita Diltz driving many of us around and working on making all the hotel arrangements. But there was also Batman, Bat woman, Batgirl, and Alfred who took me around in the Bat mobile and allowed to stay in their bat cave. When we first met them it was arranged to meet them at a specific restaurant. We did not know what Batman would look like having never met him before. As we approached the entrance to the restaurant I said we will only recognize him by his batman voice. I had no more said the words than a masked man wearing a batman mask drove from behind us and said welcome to Gotham. It was hysterical and the timing was unbelievable.
Batman took us to the stone museum in Golden and all of us were amazed at the beauty of the stones gems and rocks on exhibit. He also took us up to Buffalo Bills resting place and to Red Rock amphitheater. A very special thanks to Batman and Bat woman for their hospitality.
We also had an erev Shabbat meal at Susan Danielson's. I felt so intimidated to be in the same room with so many brilliant people. All of them brethren. It was so nice to be amongst like minded brethren. We did not want to leave. It was so nice and the food was awesome. It was such a special evening I do not have words to express my gratitude to be a part of it. So much great food and such great company. Everyone went beyond what was expected. Thank you all.
Stephenie Schureman was our host on Shabbat and she was just awesome and so accommodating to all our needs. We were thrilled to have a place to teach and she packed out the place. I am honoured to have met her and privileged to be able to share our message there.
There was so many people who made this weekend so special. Some I cannot name nor show their pictures. But there are a lot of people in Golden Colorado keeping Torah. If Abraham were negotiating with Yehovah they would have way more than 10, 20 and maybe even more. All they have to do is keep telling others what they have learned and for them to begin to teshuvah and return to Yehovah.
---
Culling our Newsletter List
We have begun to cull our readership, removing those who are no longer interested in the things we teach here. This will happen automatically by not clicking on the email sent to you to open up the Newsletter. If, after 30 days, you have not opened the email we sent to you to read the newsletter, then the next time, it will not be sent to you.
So to continue to have the newsletter in your inbox of emails, you need to open it from your email at least once every month.
To make sure you are on our email list just fill in your name at this link. https://sightedmoon.org/newsletter-signup55469575
By doing this, we will increase our ratings, removing any dead wood.
Click on the email from us and then click on trusted sender to let your server know we are a legitimate email that you want.
At the same time, we are looking to add emails to our list of those who already keep the Sabbath. If you have an email list that might be blessed by the things we are saying here, you can send the list to us and we will add it to those who have not yet clicked on one of our ads. We give them the choice to join or leave. Then once they join we begin to share with them each of the books and charts and videos to help them grow in understanding the Jubilee Cycles.
If you are a Pastor and want your members to know these things send us a list of emails. First and Last name, email address, and country.  Time is running out. We are urgent to warn everyone to get ready because our King is coming. Every nation and everyone who says they believe needs to be on this list to help them get ready.
---
Third Year Tithe
There are still just under two months left until the Shmitah Year begins. Have you begun to store food away for the Sabbatical year from Aviv 1, 2023, to Aviv 1, 2024?  If you have, then that is awesome. I want to remind you not to neglect the Widows in this 6th year so they, too, can store food away.
If you want to be blessed by Yehovah during this coming time with high inflation and high prices for food, then do not neglect your duty now to your brethren. The donations for the widows have dropped off. I will assume you are all now giving to those you know personally, and this is awesome. But if, on the other hand, you have just stopped because of donor fatigue, then be forewarned.
I want to remind and ask you all, have you remembered the widows and the orphans this year thus far? We are now in the 11th month. Many of you have supported this cause and I want to thank you on their behalf. I will keep reminding you about this responsibility for the entirety of this year. But this year does not end until Aviv, 2023. We have almost completed the year. And having now sent out another payment to the widows, I can tell you they are blessed because you you.
Let me share with you what one widow recently wrote to me about the recent flooding in Kentucky.
Your third-year tithe matters

You helped the widows of this community.

The worst thing about being a widow is feeling forgotten and alone.  It's feeling unhugged, unheard, unloved, and unseen.

When this community committed to keeping the 3rd year tithe, you did many things for us widows involved.  You helped us buy chicken feed and dog food.  You've helped us get shoes and keep the heat on.  You've helped to keep our cars on the road, and you have helped us to ride instead of walk.  You have helped us to keep our phones connected and our stomachs full.  You have helped us to bless our families, and to be blessed by you.  We've been able to buy our medication and maybe something a little extra.  You've helped us keep our dignity intact.

The most important thing you did was to remind us that we are seen, and we are heard, and that there are people who love us.

YHVH is clear in his word that a community must take care of its widows and orphans.  A community that does not take care of their widows, orphans, and Levites will not be blessed.  When you provide this third-year tithe, you will be blessed.  We hope you have been blessed.

We pray for you all.  We pray for Sighted Moon and all those involved with it.  We pray a blessing upon you and your families.  We pray that what YHVH sends unto us by your hand will be multiplied ten-fold back to you.  We pray for peace in your homes and your hearts, and that YHVH keep his promise to bless you in as many ways as he can.
Thank you does not express it adequately, but nevertheless, thank you all.

~~Rose T – On behalf of the widows
Dear brethren, supports of widows!

Yehovah is so good, you have blessed me beyond my imagination! Thank you from the bottom of my heart!

Your tithe is helping me to pay the rent, to keep the place warm and to buy food.

I'm feeling like God drops manna from heaven over me, that He is faithfully and lovingly looking after me in my old age and lone season. Because you are faithful and obeying! I am so grateful!

I am praying for you daily, may God reward your generosity according to His riches in heaven, may He make you prosper in everything you do, may He protect you and your families every moment, may He keep you healthy and strong, joyous and active, and may  His peace cover you always! Thank you, Father, mostly for providing our salvation in our Messiah. Bless you all!

Valentina C.
I can't really begin to express adequately my thankfulness for the help I have received from Sighted Moon and those who have been faithful to share in the widow's tithe. As a person who likes to handle her own affairs, it is humbling yet exhilarating to receive help beyond what I am capable of doing on my own.  As I age and become less able to work and operate in the strength of my youth, it is a double blessing to receive financial help. I knew the kind of death my husband would likely die,  but I never considered becoming a widow-the thought never crossed my mind. The shocking reality of financial struggle, change of lifestyle, friends and emotional heartache was a trauma in itself.  To have friends come along to ease some of the burdens of widowhood has been a joy and strength.  Thank you, Joe Dumond, for being obedient to the instructions in the Word and teaching others to obey.  Thank you to each one who has given and I truly ask Father to bless you 1000 fold for your faithfulness to obey. Todah Rabah.

EM
The Sighted Moon help has been tremendous. I was able to get my riding lawnmower fixed which was greatly needed as I'm unable to push a lawnmower, and new tires for my van and I've bought food to put away for the sabbatical year and the greatest thing was to be able to contribute back to SM!!!!  I have learned so much from the things Joe has learned which I could have never learned on my own (I can't count, math dyslexia), i just don't have the funds to give in any way so what others have done for me made it possible for me to return.  I was also able to give to 2 of our members who have been struggling as well. Lisa has cancer, and Steven S, with his ministry he was also able to help Lewis buy the medicine he needed.

E
Brethren I do want to encourage you not to let up in your support. We all want to receive the blessings, which only come when you comply with the law. This 6th year is the prelude to the 7th year of rest. The Sabbatical year also has things that you are to do to be in compliance with the Kingdom laws. 2024 is the start of the 10 Days of Awe and you do not want to be found out of His Grace at that time.
2022 is the 6th year of the 4th Sabbatical cycle. And anyone who has been reading our website for any time will know how to prove beyond all doubt when the Sabbatical and Jubilee years are. Once you have done that then you will know when the 3rd and the 6th year of the Sabbatical Cycles are. We are told to raise a tithe every third year for the widow, the orphan and the Levite in your gates.
<
Here is a very severe warning from Yehovah to each of us.
Exo 22:21  You shall neither vex a stranger nor oppress him, for you were strangers in the land of Egypt. You shall not afflict any widow or fatherless child. If you afflict them in any way, and they cry at all to Me, I will surely hear their cry. And My wrath shall become hot, and I will kill you with the sword, and your wives shall be widows, and your sons fatherless.
We have now sent out  (as of December 15, 2022)  our 8th round of gift offerings that you have sent in for the widows and orphans. We have also supported a couple of other ministries that aid us in doing this work. This will fulfill the Levite part of the commandment. It was our desire to get the funds to them as we are told to do in Deuteronomy. We have also contributed to another ministry that sent a large portion of widow's tithe to Yehuda Glick in Israel and the widows he is supporting.
Deu 14:28  At the end of three years you shall bring forth all the tithe of your increase the same year, and shall lay it up inside your gates.

Deu 14:29  And the Levite, because he has no part nor inheritance with you, and the stranger, and the fatherless, and the widow, who are inside your gates, shall come, and shall eat and be satisfied, so that Jehovah your God may bless you in all the work of your hand which you do.
We will soon be making another gift to them. If you do not know of anyone in the faith who is a widow or orphan then you can send it to us. Make sure you write me to let me know that those funds are for the widows and I will see to it they get it. But if you do not write me then I will not know where to apply your donation.
May each one of you who has given to this cause, be blessed as Boaz was blessed by Yehovah for his generosity. May each one of you be known for your support of the laws that will make the Kingdom of Yehovah strong and righteous. And may Yehovah bless you so that what you give is never missed and you never lack for your generosity towards Yehovah's heart.
---
Promotions
Well, it finally happened. At long last, I was able to get The Abominations that Make Desolate-The Countdown Has Begun launched on December 26, 2022, through our funnel, which was sent out to all those on our News Letter List. We bundled it up with all our books, making them all available to those on that list for the first time. Yes, these are all PDF versions. It was sent out to about 13,000 in total.
From this mailing, we have gained about 1000 new subscribers to the Newsletter, many of whom will be reading with us for the first or maybe the second time. We know our funnels are working. We know more people are looking for the information we offer revolving around our knowledge of the Jubilee Cycles and end-time prophecy. We now know it works. James and I are streamlining the funnels with the follow-up emails. We are also working on making it so those who promote our books will get a commission from those sales. We are not ready yet.
I pray and hope each one of you will share this link on your social media page multiple times to help us get new customers and at the same time, new followers. You will be helping us to warn the world just how close we are to the end. I need your help now more than ever because I have been banned from Facebook, which was to be our main media source of advertising. But most of you are not banned. So please share this link everywhere this week and next and the week after that as well.
https://sightedmoon.org/optin1666020116583
The Abomination That Makes Desolate

We are just months away from the time the Abomination spoken of in Daniel is going to be set up.

Many are looking for a Temple to be built but do not realize the Altar is already here and about to become detestable!

Jesus said then will be Great Tribulation that has not been since the beginning of the world.

Were you even aware?
We have also now just published on Amazon
The Abominations that Make Desolate-The Countdown Has Begun
 so that those who want a soft or hard copy can
now order one there
.
---
Sabbath Meetings
There are many people in need of fellowship and who are sitting at home on the Sabbath with no one to talk to or debate with. I want to encourage all of you to join us on Shabbat, and to invite others to come and join us as well. If the time is not convenient, then you can listen to the teaching and the midrash after on our YouTube channel.
What are we doing and why do we teach this way?
We are going to discuss both sides of an issue and then let you choose. It is the work of the Ruach (Spirit) to direct and to teach you.
The medieval commentator Rashi wrote that the Hebrew word for wrestle (avek) implies that Jacob was "tied", for the same word is used to describe knotted fringes in a Jewish prayer shawl, the tzitzityot. Rashi says, "thus is the manner of two people who struggle to overthrow each other, that one embraces the other and knots him with his arms".
Our intellectual wrestling has been replaced by a different kind of struggle. We are Wrestling with Yehovah as we grapple with His Word. It is an intimate act, symbolizing a relationship in which Yehovah and I and you are bound together. My wrestling is a struggle to discover what Yehovah expects of us, and we are "tied" to the One who assists us in that struggle.
Today, many say Israel means "Champion of God," or better — the "Wrestler of God".
Our Torah sessions each Shabbat teaches you and encourages you to constantly challenge, question, argue against, as well as view alternative views and explanations of the Word. In other words, we are to "wrestle with the Word" to get to the truth. Jews worldwide believe that you need to wrestle with the Word and constantly challenge Dogma, Theology, and views or else you will never get to the Truth.
We are not like most churches where "The preacher talks and everyone listens." We encourage everyone to participate, to question and to contribute what they know on the subject being discussed. We want you to be a champion wrestler of the Word of Yehovah. We want you to wear the title of Israel, knowing that you not only know but are capable of explaining why you know the Torah to be true with logic and facts.
We have a few rules though. Let others talk and listen. There is no discussion about UFO's Nephilim, Vaccines or conspiracy-type subjects. We have people from around the world with different world views. Not everyone cares who is the President of any particular country. Treat each other with respect as Fellow wrestlers of the word. Some of our subjects are hard to understand and require you to be mature and if you do not know, then listen to gain knowledge and understanding and hopefully wisdom. The very things you are commanded to ask Yehovah for and He gives to those who ask.
Jas 1:5  But if any of you lacks wisdom, let him ask of God, who gives to all liberally and with no reproach, and it shall be given to him.
We hope you can invite those who want to keep Torah to come and join us by hitting the link below. It is almost like a Torah teaching fellowship talk show with people from around the world taking part and sharing their insights and understandings.
We start off with some music and then some prayers and it's as though you were sitting around the kitchen back in Newfoundland having a cup of coffee and all of us enjoying each other's company. I hope you will grace us with your company someday.
Sabbath services begin at 12:30 PM EDT where we will be doing prayers songs and teaching from this hour.
Shabbat Services will begin at about 1:15 pm Eastern.
We look forward to you joining our family and getting to know us as we get to know you.
Joseph Dumond is inviting you to a scheduled Zoom meeting.
Topic: Joseph Dumond's Personal Meeting Room
Join Zoom Meeting
https://us02web.zoom.us/j/3505855877
Meeting ID: 350 585 5877
One tap mobile
+13017158592,,3505855877# US (Germantown)
+13126266799,,3505855877# US (Chicago)
Dial by your location
+1 301 715 8592 US (Germantown)
+1 312 626 6799 US (Chicago)
+1 346 248 7799 US (Houston)
+1 669 900 6833 US (San Jose)
+1 929 436 2866 US (New York)
+1 253 215 8782 US (Tacoma)
Meeting ID: 350 585 5877
Find your local number: https://us02web.zoom.us/u/kctjNqPYv0
---
Torah Portions
We read through the entire Torah, along with the Prophets and the New Testament, once over the course of 3 1/2 years. Or according to the Sabbatical Cycle, which means we read it all twice over a 7-year period. This allows us to cover more in-depth rather than being rushed to cover as much as is covered on an annual basis. We allow all to comment and take part in the discussions.
Septennial Torah Portion
If you go to Torah Portion at our archived section, you can then go to the 6th year which is the 6th year of the Sabbatical Cycle, the one we are in now, as we state at the top of every News Letter. There you can scroll down to the current date, 2023, and see that this Shabbat we could very well be midrashing about:
This week's Torah portion is:
Numbers 8
Job 19-21
Hebrews 9
If you missed last week's exciting discoveries, you can watch past Shabbats on our media section.
---
Jew-Hate at American Universities
[The Amcha] report paints a stark picture of an increasing, intensifying and carefully coordinated campaign of attacks on Jewish identity at over 60% of the colleges and universities that are popular with Jews, including 2,000 incidents intended to harm Jewish students since 2015.
[T]hese activists demand an end to Zionism, which… means just one thing: an end to the democratic State of Israel. This itself is antisemitism in any book and is spelt out as such in the US State Department definition of antisemitism.
Despite expending so much energy against their fellow students, German Gentiles had plenty left for their Jewish professors. Unsatisfied with Nazi race regulations restricting Jewish faculty, students boycotted the classes of those who were exempt under the race laws and pressured university authorities to dismiss them. The result was that every Jewish professor who was still legally allowed to teach had resigned by 1935.
The Amcha report characterises the situation on US campuses today as a crisis for American Jews. It is much more than that. It is a crisis for us all that one section of our student body is bullied, abused, intimidated and cast down by their fellow students and often abandoned by their professors and faculty authorities.
It is high time for the federal government, under Title VI of the 1964 Civil Rights Act, to withdraw its funding from all universities that participate in bigotry such as that.
As Jews were hounded out of German universities in the 1930s, where would you have stood? Many of us would like to think we would have found the moral and if necessary physical courage to stand up for our fellow students rather than see them persecuted, bullied, abused and thrown out. Well, now we can actually put our courage to the test as before our eyes we see a re-run of an almost identical pattern of antisemitism — this time at American colleges, with a similar picture at universities in Britain and elsewhere in the West.
A new study by the antisemitism watchdog Amcha Initiative documents a pervasive, relentless assault on Jewish identity at US universities.
It has been going on for years, but this report paints a stark picture of an increasing, intensifying and carefully coordinated campaign of attacks on Jewish identity at over 60% of the colleges and universities that are popular with Jews, including 2,000 incidents intended to harm Jewish students since 2015.
Most of this dark work is being done under the spurious and despicable cover of delegitimising Israel, spreading blatant lies about the Jewish state and conspiring to prevent those lies from being exposed or countered by seeking to ban anyone who dares speak or even show support for the truth. With bloodthirsty cries of "intifada, intifada" (meaning the mass murder of Jews), these activists demand an end to Zionism, which, for the avoidance of doubt, means just one thing: an end to the democratic State of Israel. This itself is antisemitism in any book and is spelt out as such in the US State Department definition of antisemitism, a definition that Jew-hating campus activists do all in their power to resist, distort and discredit.
But sometimes even the threadbare "anti-Israel" mask of campus activists slips, as they expose the naked racism behind their campaign with slogans like "Jews control the government and the banks", "Jews out of CUNY" [City University of New York] and "Jews are racist sons of bitches".
Even without such transparent venom, there is no disguising their anti-Jew agenda. Attacks against any student or professor who supports Israel or Zionism are made in the full knowledge that this means the overwhelming majority of Jews — the Amcha report quotes Pew polling data showing that more than 80% of American Jews view Israel as integral to their Jewish identity. In short, however these campus activists might pretend otherwise, they are attacking Jews.
And they do not hold back. A 2021 poll from the Louis D. Brandeis Center for Human Rights Under Law shows college students with a strong sense of Jewish identity and connection to Israel have learnt that to avoid antisemitism they must view their religion as something to hide, not celebrate. According to the Brandeis Center:
"Nearly 70% of the students surveyed personally experienced or were familiar with an anti-Semitic attack in the previous 120 days. More than 65% of these students have felt unsafe on campus due to physical or verbal attacks, with one in 10 reporting they have feared they themselves would be physically attacked. And roughly 50% of students have felt the need to hide their Jewish identity".
As their oppressors freely and openly express their own religious or cultural beliefs in words, actions and symbols, many Jewish students are forced to keep quiet about theirs, discarding their skullcaps, hiding Star of David pendants under their shirts and even thinking twice about placing a mezuzah on the doorposts of their residences.
They know better than to give any hint of a connection with Israel on social media, which is obsessively monitored and screen-shot by the jackals that want to abuse, exclude and cancel them.
Some courageous students — and it's incredible that courage is needed for this in 21st Century America — are unwilling to conceal their beliefs or abrogate their right to freedom of speech, and so stand up to the intimidation they face on campus. I pay tribute here to educational groups like Club Z, Stand With Us and the UK Pinsker Centre who, among others, work hard to help strengthen such individuals. Yet some Jewish students feel the need to switch sides to secure their safety and find acceptance in a hostile environment. This has significantly contributed to the growth of Jewish anti-Zionist organizations such as Jewish Voice for Peace and is a tremendous prize for the Jew-haters. According to the Amcha report, the presence of these groups on campus more than doubles the likelihood of antisemitic incidents involving the distortion or denigration of Jewish identity.
It is neither exaggeration nor hyperbole to say that the sustained campaign against Jews at US universities in the 21st Century could have been modelled on Jew-hate at German universities in the 1930s.
It is a popular belief that the total exclusion of Jewish students and faculty at German universities by late 1938 was the work of the Nazi government bureaucracy and therefore an entirely different phenomenon that should not be compared to antisemitism on American campuses today. Uncomfortably for many, that is not true.
In reality, German non-Jewish students, who had pioneered antisemitism on campus before 1933, not the government, led the charge against their Jewish fellow students in the early Nazi years, bullying and intimidating them and pressuring the authorities to expel them. In other words, virtually the same phenomenon as we see today in America and elsewhere in the West. A German student journalist at the time wrote that students themselves made an important contribution to the creation of the Nazi university in the Third Reich. (Source: Die Bewegung, 47 (1938), Bundesarchiv (BA) Koblenz, ZSg 129/152.)
Under assault from their fellow students, as in American universities now, many Jews then found it prudent to conceal their ethnicity and religious beliefs, years before the ultimate fate of the Jews in Germany could be foreseen.
Jews were excluded or expelled from the German Student Federation and other student groups not because of any state edict but because of pressure by other students. The same thing is happening today at American universities, with recent examples of Jewish students being voted out from student councils and excluded from community groups, specifically because they are Zionists, for which read Jews.
Just as Jewish fraternity groups were targeted and physically attacked in 1930s Germany, so the Amcha report documents systematic actions including physical assaults against Jewish fraternities and student groups on campus today, including Alpha Epsilon Pi (AEPi) and Hillel, as well as vitriolic condemnation for participation in pro-Israel projects such as Birthright.
Despite expending so much energy against their fellow students, German Gentiles had plenty left for their Jewish professors. Unsatisfied with Nazi race regulations restricting Jewish faculty, students boycotted the classes of those who were exempt under the race laws and pressured university authorities to dismiss them. The result was that every Jewish professor who was still legally allowed to teach had resigned by 1935.
As in 1930s Germany, Jewish professors feel the heat in today's America, suffering abuse and attacks against them by fellow faculty members and students, with some abandoning their kippahs for a quiet life. According to a report by the Israel on Campus Coalition, pro-Israel scholars are often frozen out by university authorities, in true Third Reich style, and faculty members are hesitant to engage in public or even private support for Jewish students or to take on their colleagues.
Illustrating the toxic atmosphere on some campuses, in January last year, six CUNY professors filed a lawsuit against their faculty's professional union, accusing it of antisemitism.
The Amcha report characterises the situation on US campuses today as a crisis for American Jews. It is much more than that. It is a crisis for us all that one section of our student body is bullied, abused, intimidated and cast down by their fellow students, and often abandoned by their professors and faculty authorities. Will we rise to defend our Jewish brethren in their persecution or will we sit back and silently wring our hands as before? Perhaps we should follow the example of German Gentile students Hans and Sophie Scholl and their fellows in the White Rose, a student resistance group, who in the 1940s stood up and spoke out against Nazi tyranny and the persecution of Jews. Their fate was the guillotine.
It is high time for the federal government, under Title VI of the 1964 Civil Rights Act, to withdraw its funding from all universities that participate in bigotry such as that.
Colonel Richard Kemp is a former British Army Commander. He was also head of the international terrorism team in the U.K. Cabinet Office and is now a writer and speaker on international and military affairs. He is a Jack Roth Charitable Foundation Fellow at Gatestone Institute.
---
'Decision To Arm Ourselves Or Arm Ukraine': Navy Secretary Admits Crisis In US Defense Stockpiles
The leader of the US Navy has admitted that the question of dwindling US arms stockpiles in the rush to arm Ukraine, which now stands at over $100 billion in defense aid and counting, is dire enough that some tough unprecedented decisions are coming, which shocked a group of reporters this week.
Navy Secretary Carlos Del Toro acknowledged before a naval warfare conference in Arlington, Virginia on Wednesday that the US within the next six months could face a decision of whether to arm itself or Ukraine, due to rapidly depleting stockpiles due to supplying Ukraine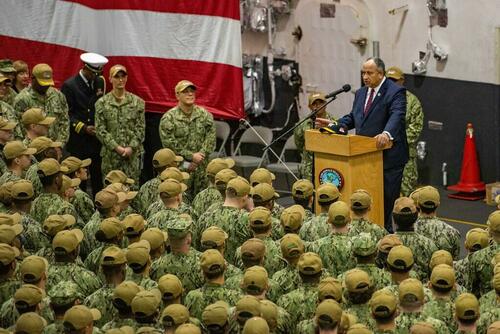 ---
The 2nd Curse
---
Leadership According to Messiah
James Relf 
Leadership—You know what it is, and you know what it is not, but if you were asked directly, how would you define it?
Defining leadership is a little like nailing jello to the wall. It is a very elusive and slippery proposition. Most people are unable to give a verbal definition. They know that leadership involves many things. It is about good judgment and decision-making. It is about inspiring others to accomplish more than they thought they could or keep them focused on a task through to completion. Webster's defines leadership as the position or guidance of a leader, the ability to lead. That is like defining a flower as something green that rises up. It does not express the nature and characteristics of a flower. I present this little dilemma to you to draw your attention to a very important aspect of our faith. I want you to consider the Messiah's style of leadership. How does the Messiah lead us?
We all know that we should follow the Messiah's example. As a matter of fact, I believe that the main reason that He came was to demonstrate for us how we are to lead, follow, walk out our lives, and most importantly, act towards our fellow believers in the faith. As part of the leadership lifestyle, we should know what the Messiah's leadership style is. By the way, everyone needs to know this, not just those who are in a position of leadership. Leaders need to know it to lead effectively and believers need to know it to recognize appropriate behavior or discern inappropriate behavior in the leaders they decide to follow. In other words, they need to know what the Torah says so that when we view others, we are able to discern and act according, not to our own standards which mean nothing, but to YHVH's standard, the Torah.
Let me begin by sharing an experience I had many years ago. I was invited to a men's prayer breakfast. These were men who gathered once a month in their city to pray and encourage one another in the Lord at one of the brother's home or a restaurant. I was given the opportunity to share a few words (about 15 minutes' worth) while scarfing down some eggs and toast, in the midst of about twenty guys giving each other cheerful greetings. However, my comments were not received as encouragement by everyone. I spoke about the future judgment of YHVH and obedience to Torah and that we needed to be prepared. Many there believed in the pretribulation rapture, and it became clear that I was not giving the standard "partyline." The pastor approached me after the meeting, and I could tell by his watery eyes and tone that he wanted to take issue with me.
He first stated that my comments were "very subjective" as opposed to "objective." I did not disagree; instead, I agreed completely. I explained to him that 15 minutes did not afford me the opportunity to lay out all the facts and be objective about the subject. Because of the shortness of time, I cut right to the chase and presented the topic in a subjective manner. He seemed disappointed that I had agreed with him. I had the distinct thought that he was looking for some disagreement ammunition for his gun so he could shoot me.
He then shifted to another question. "How old are you?" I answered, "Thirty-seven years, sir." I think he was a little surprised given my healthy young look. So, I asked him back, "How old are you, sir?" He answered immediately with "Sixty-four years."
In those moments, the air of the restaurant was still and tense. The remaining men had ceased from their conversations. They focused on us and could sense that conflict was present. I could sense it also and was asking YHVH what He wanted to do with this man.
Suddenly, my mouth opened and I heard myself say, "So, do you think that makes a difference?" My voice was firm and direct. He looked back at me eye to eye. "Yes… Yes, I do." "How so?" I asked. "Well, I am in a different station of life than you," he answered. "You're right, you are in a different station of life," I replied. "But, do you want to know what makes a difference?" He was silent like everyone in the room at the moment. My mouth gave answer. "Being anointed makes a difference! That is why the Messiah was different from all others. He is the Anointed One. And, when you go to minister to others you had better be anointed to the task so that you speak in His authority, not the authority of men."
I have never forgotten that moment. Not only did I experience YHVH's Spirit, but the content of the statement was profound and clear. The conflict was over; it was settled right there. There was peace.
The Messiah met with many people in direct situations. The gospels recorded many conversations for us. He engaged the people directly to their hearts and fielded questions with power and wisdom. In many instances, He won over the hearts of the people by turning the issue or conflict into a shining example of wisdom.
YHVH's wisdom was not the only characteristic of the Messiah's leadership. Next, we will consider another style of leadership: Physical appearance is not important. Did you know that when those in authority went to arrest Yeshua, they had to hire someone to identify Him?
Think about that for a moment. Yeshua wanted the people to hear His message; it was a message of life. Yet, He did not promote His appearance whatsoever. Sure, He had been in the temple and in public places many times—He didn't hide Himself. However, the religious leaders and the Roman officials had not seen Him. The officials could not identify Him in person face to face. They only knew about Him through others and what was said about Him. He did not make His appearance distinct.
If you have seen any pictures depicting Yeshua, they all share something in common which is not like Yeshua at all. You probably know what I am referring to. The Messiah is always the nice looking guy, slight smile, about medium height, with beautiful shining hair and that cream colored tunic (everyone else is wearing some old brown housecoat). The truth is that Yeshua wore the same clothes as the other disciples; you could not distinguish Him from anyone else in the crowd. In fact, there is some evidence in the Scripture to suggest that He was not handsome at all.
Consider the leadership style of other men. It seems that appearance is right at the top for everyone else. I am sure you have heard the saying, "Clothes make the man," Clothes are representative of a leader's position and power (wealth). Generals look different from soldiers. Officers like to look different from the troops, except when they do not want to get shot by the enemy. Men make their initial judgments about one another based on the outward appearance. Kings must always look like kings, or else they will not have their kingly power and prestige.
This point was particularly true when Yeshua was brought before Pilate the first time. The temple elders accused Him of claiming to be a King, but He clearly didn't look like a king. Therefore, Pilate entered again into the Praetorium, and summoned Yeshua and said to Him,
"Are You the King of the Jews?" Yeshua answered, "Are you saying this on your own initiative, or did others tell you about Me?" John 18:33-34
Yeshua's question to Pilate put the conflict in perspective. Here was Pilate, the Roman leader, being asked to judge a matter on the basis of what others were saying (hearsay) instead of actual evidence. There was nothing in Yeshua's appearance that would suggest to Pilate that He considered Himself to be a king.
Leadership is all about good judgment and proper decision-making. Every day leaders make judgment calls and decisions affecting lives. They are supposed to do it based on evidence and after searching for the truth. They are not to make judgments as many do based solely on outward things, or especially on the words of others in the form of hearsay. Yeshua's question confronted Pilate with the fact that he only had hearsay and no evidence with which to judge Him. Pilate knew instantly that Yeshua was right, so he proceeded to deflect the judgment away from himself, upon those who brought Him.
Pilate answered, "I am not a Jew, am I? Your own nation and the chief priests delivered You to me; what have You done?" John 18:35
Pilate is now speaking the truth. Others who had already judged Him brought him to Pilate. With that understood, Yeshua now addresses the Roman Governor.
Yeshua answered, "My kingdom is not of this world. If My kingdom were of this world, then My servants would be fighting, that I would not be handed over to the Jews; but as it is, My kingdom is not of this realm." Therefore Pilate said to Him, "So You are a king?" Yeshua answered, "You say correctly that I am a king. For this I have been born, and for this I have come into the world, to testify to the truth. Everyone who is of the truth hears My voice." John 18:36-37
This is an amazing answer. Pilate is now calling Yeshua a king on the basis of one conversation. Maybe you could ask, how do you know Yeshua is a king of another world? However, the real question here is, is there any evidence of wrongdoing, and what is the truth in this matter? Thus, Pilate asks.
Pilate said to Him, "What is truth?" And when he had said this, he went out again to the Jews, and said to them, "I find no guilt in Him." John 18:38
 At this point, Yeshua has confronted Pilate with the fact that there was no evidence of wrongdoing. He may or may not be a king, which is a different matter. Therefore, Pilate properly concludes that Yeshua is not guilty of any wrongdoing that he could render judgment.
Nevertheless, from the beginning the elders of the temple were not going to accept a "not guilty" judgment. So, Pilate tried to trade off a man named Barabbas, which means "Son of the Father" in place of Yeshua, "the King of the Jews."
Pilate's attempt to appease those who accused Him was in vain. Instead of letting the truth carry the day, Pilate capitulated to the demands of the temple elders, and, therefore, he had Yeshua scourged and mocked. But this still was not enough to satisfy His accusers. They demanded His death.
Once again, Pilate asked Yeshua more questions, trying to get some kind of evidence to support his "not guilty" judgment. He asked further questions like, "Where are you from?" Then suddenly Yeshua would not answer. Pilate was frustrated. He tried to leverage Yeshua into answering by using his position and authority as the Roman governor.
 So, Pilate said to Him, "You do not speak to me? Do You not know that I have authority to release You, and I have authority to crucify You?" John 19:10
 This is typical of many leaders today. If things do not seem to be going your way, use the power of your position and title. Use intimidation and the threat of force. The problem is that personal power does not work on one who is a superior power. A governor is going to threaten the King of all kings? A man is going to threaten YHVH? Here is a little wisdom for leaders: If you have to revert to your positional authority in any dispute, you have lost the war. Yeshua's answer is even more insightful about leadership.
Yeshua answered, "You would have no authority over Me, unless it had been given you from above; for this reason, he who delivered Me up to you has the greater sin." John 19: 11
 Pilate was at a total loss. His ability to judge was compromised. His position and authority were useless. He was in the middle of something bigger than himself and he didn't even qualify as one of the principals in the dispute. He was a minor piece in this chess game.
As a result of this Pilate made efforts to release Him, but the Jews cried out, saying, "If you release this Man, you are no friend of Caesar; everyone who makes himself out to be a king opposes Caesar." John 19:12
 We look at the story of this man Pilate and see a man who was trapped in a leadership system without any good choices. This is the same problem for most pastors and religious leaders of Christianity of today.
The Messiah's leadership style is not like that of Pilate. He did not need position or title to accomplish His tasks. Have you ever noticed that Yeshua did not go around telling everyone that He was the Messiah?
He would let others come to that conclusion on their own. Even when He was asked directly, He would not say it specifically. There are a couple of instances where this topic did come up though. They are particularly noteworthy and illustrate some of the leadership style of the Messiah.
I can do nothing on My own initiative. As I hear, I judge; and My judgment is just, because I do not seek My own will, but the will of Him who sent Me. John 5:30
 This is huge! Here is the Messiah saying that He cannot execute His own initiative. How many leaders have you known who assert their self-will? They automatically think that leadership means they have to do something to prove that they are the leader. Yeshua said that He was under the authority of His Father and not there for His own will. Think about the definition again for the Messiah—the Anointed One.
Someone had to have anointed Him, right? Being under authority and staying within that authority is of paramount importance to be a successful leader.
Remember the discussion between the Centurion and Yeshua who sought out the Messiah's help.
And a centurion's slave, who was highly regarded by him, was sick and about to die. When he heard about Yeshua, he sent some Jewish elders asking Him to come and save the life of his slave. When they came to Yeshua, they earnestly implored Him, saying, "He is worthy for You to grant this to him; for he loves our nation, and it was he who built us our synagogue." Now Yeshua started on His way with them; and when He was not far from the house, the centurion sent friends, saying to Him, "Lord, do not trouble Yourself further, for I am not worthy for You to come under my roof; for this reason I did not even consider myself worthy to come to You, but just say the word, and my servant will be healed. For I also am a man placed under authority, with soldiers under me; and I say to this one, 'Go!' and he goes; and to another, 'Come!' and he comes; and to my slave, 'Do this!' and he does it." Luke 7:2-8
First, the Centurion did not send his own servants, but instead, he requested others who could give good testimony to speak for him. When Yeshua was about to arrive, the Centurion appealed through yet others (not himself) to only ask for a "word" from Yeshua because he recognized Yeshua's authority to do YHVH's work. He knew that authority worked in this way and he had submitted completely to the Messiah's authority. Yeshua's answer draws attention to the centurion's proper understanding as a leader.
Now when Yeshua heard this, He marveled at him, and turned and said to the multitude that was following Him, "I say to you, not even in Israel have I found such great faith." Luke 7:9
 Before going back to Yeshua's statements of His own initiative, let us review when the religious leaders came challenging Yeshua and His source of authority. This conversation came late in His ministry.
On one of the days while He was teaching the people in the temple and preaching the gospel, the chief priests and the scribes with the elders confronted Him, and they spoke, saying to Him, "Tell us by what authority You are doing these things, or who is the one who gave You this authority?" Yeshua answered and said to them, "I will also ask you a question, and you tell Me: "Was the baptism of John from heaven or from men?" They reasoned among themselves, saying, "If we say, 'From heaven,' He will say, 'Why did you not believe him?' "But if we say, 'From men,' all the people will stone us to death, for they are convinced that John was a prophet." So, they answered that they did not know where it came from. And Yeshua said to them, "Nor will I tell you by what authority I do these things." Luke 20:1-8
Yeshua rightly sensed that the question of His authority was only the preamble of a challenge and dispute. Many leaders face having their authority challenged. Where did you get your authority, your education, your ordination, and your credentials? Many leaders use their credentials and background as their platform for leadership. The Messiah's platform for leadership is heaven – there is no higher platform for a person who is anointed.
Early in my own faith when I had started teaching, I was confronted in much the same situation. I had seen some wrong doing and wanted it exposed. In accordance with Torah, I took the matter to the head pastor of the local church where I was going to speak., because this was directly related to one whom they were supporting. I presented my case and left it with the elders believing what I had done was correct. I had previously tried to speak directly to the brother, with little to no change. Later that day I was summoned before the elders and asked by whom was my authority to judge this brother, I answered him from the Messiah's example. "I am submitted to any brother who is submitted to the Messiah. Do you know any brethren that are submitted to the Messiah?" While I knew I was correct based solely on Torah, I was accused falsely and put out. Several years later, I was informed that the one who twisted the truth for his own benefit was found out and his actions were open for all to see.
The Messiah's style of leadership is based on performance, not on what is said by Himself about Himself. In fact, He stated it succinctly this way.
If I alone testify about Myself, My testimony is not true. John 5:31
 The witness of others is more important than what you say about yourself. In the case of Yeshua, He had the testimony of John the Baptist from the very beginning. This is how his first disciples began to follow him.
Teaching was never an easy calling for me and many times after praying for days I was left standing in front of a group of people with nothing to say and it was at times like those where I found the end of myself and beginning of Messiah. In one situation, I was called to teach and within 5 minutes after starting, found myself on my face crying with all my heart before the Father. Shortly thereafter, so to was all those who I had come to give instruction to. So, sometimes, it is not about what you have to say, as just showing up and allow the Spirit to act through you. Upon closing, I heard others speaking about the experience as I slowly followed the crowd, speaking about how refreshing and real the experience was for all of them. This was not of me at all and while it was difficult to understand, the results and testimony of others will tell the truth of what is spoken or in this case not spoken. I was asked to speak to others but my schedule would not allow for the time.
There is another who testifies of Me, and I know that the testimony which He gives about Me is true. You have sent to John, and he has testified to the truth. John 5:32-33
 However, as you will see, the witness of others is not the exclusive testimony of His leadership, nor should it be of ours.
 But the testimony which I receive is not from man, but I say these things that you may be saved. He was the lamp that was burning and was shining and you were willing to rejoice for a while in his light. But the testimony which I have is greater than the testimony of John; for the works which the Father has given Me to accomplish—the very works that I do—testify about Me, that the Father has sent Me. And the Father who sent Me, He has testified of Me. You have neither heard His voice at any time, nor seen His form. You do not have His word abiding in you, for you do not believe Him whom He sent. You search the Scriptures, because you think that in them you have eternal life; it is these that testify about Me; and you are unwilling to come to Me so that you may have life. John 5:34-40
For the Messiah, and for any spiritual leader of today, the testimony of YHVH Himself is of greater importance than the best testimony of any group of men. Therefore, just because many people follow a leader or think highly of him, that is not sufficient as a measure of his leadership. It is only part of the measure. The more powerful measure is what YHVH thinks of his leadership.
I share this little word picture to make this point to leaders about having a good testimony among the brethren. I am not impressed with how quickly the shepherd gets across the creek; I am impressed by how many sheep the shepherd gets across the creek. At the same time, the shepherd must be willing to give himself for the flock but never forgets the flock belongs to His master.
Yeshua once asked His disciples directly about what they thought of Him. He began by asking what other men said about Him.
Now when Yeshua came into the district of Caesarea Philippi, He was asking His disciples, "Who do people say that the Son of Man is?" And they said, "Some say John the Baptist; and others, Elijah; but still others, Jeremiah, or one of the prophets." Matthew 16:13-14
 The disciples accurately reflected what people were saying about Yeshua. The people were saying diverse and inaccurate things. Just for a moment, consider what others were saying.
John the Baptist. Yeshua had been with him earlier and Yeshua was known for baptizing people just like John. Many considered John to be a prophet. But the disciples knew John the Baptist was a different man from Yeshua of Nazareth.
Elijah. Now that's interesting. Elijah was a commanding figure in the history of Israel and he was prophesied to come. Didn't Yeshua say something about the spirit of Elijah?
Jeremiah. He was a great prophet of Judah. Maybe he had come back, but there was no prophecy that foretold that, was there? Or, one of the prophets. Well, we know He was saying something about YHVH, so He must be some kind of prophet, right?
Here is another little piece of wisdom about leadership: The larger the following of the leader the greater the persona of the leader. Persona is what the people want to believe about the leader, and many times it is not based on fact. One of the greatest mistakes a leader can make is to believe his own persona. He starts believing in his title and forgets his own name. This is where true humility is essential. Yeshua cut right through the persona and directed the disciples to the truth.
He said to them, "But who do you say that I am?" Simon Peter answered, "You are the Messiah, the Son of the living YHVH." And Yeshua said to him, "Blessed are you, Simon Barjona, because flesh and blood did not reveal this to you, but My Father who is in heaven. Matthew 16:15-17
 The Spirit of YHVH leads us into all truth. The Spirit of YHVH will lead us through the evidence so that the truth is clear. The evidence will also be pure and unmolested by the motives and biases of men. Why didn't Yeshua just say He was the Messiah? Because, it is better said by others who have no glory to gain.
Saying it of Himself would be self-serving.
Maybe this is why the Messiah spoke so directly about the prestige and titles that leaders like to pursue.
… "The scribes and the Pharisees have seated themselves in the chair of Moses; therefore, all that they tell you, do and observe, but do not do according to their deeds; for they say things, and do not do them. They tie up heavy burdens, and lay them on men's shoulder; but they themselves are unwilling to move them with so much as a finger. But they do all their deeds to be noticed by men; for they broaden their phylacteries, and lengthen the tassels of their garments. Matthew 23:2-5
The chair of Moses is the position of authority and responsibility for YHVH's flock. It is good that there are those who are willing to take on such a burden of responsibility, but it is not to be an opportunity for exploitation. It is also not a position for further enhancement of the leader. The leadership style of most men is to make the leader look so good that the people will follow. Yes, it is true that we need a leader and that the people need a leader they can respect, but the leadership style of the Messiah is based on real substance – not the fluff on a resume. The modern-day equivalent of broadened phylacteries and lengthened tassels is educational credentials and ordination certificates. The resulting titles of Doctor, Rabbi, and Pastor will guarantee you two things: Yes, you will get in trouble if you question him and no, he will not help you carry the garbage out.
They love the place of honor at banquets, and the chief seats in the synagogues, and respectful greetings in the market places, and being called Rabbi by men. But do not be called Rabbi; for One is your Teacher, and you are all brothers. Do not call anyone on earth your father; for One is your Father, He who is in heaven. Do not be called leaders; for One is your Leader, that is, Messiah. Matthew 23:6-10
 This passage does not say that there are no rabbis, teachers, fathers, or leaders here on the earth. There are many titles that reflect the work done by various brethren. Take for example the fellow who does the plumbing work named "John." When he goes to work, he has a blue shirt with his name "John" embroidered right over his heart. He is a plumber. But he is not a plumber because he has blue shirt with his name on it. He is a plumber because he comes to your house and expertly fixes the leaking faucet, replaces the hot water heater, and plumbs a new water line.
But, what would you think if John insisted that you refer to him only as "Plumber John." What if everyone did that? What if everyone had to be called by a title? Carpenter Mike, Captain Bill, First Baseman Bob, and Garbage Man Don. Why would they insist on addressing them with their job title before saying their name? Are they that insecure in their command of human respect? Wouldn't it be silly?
Now don't get me wrong. I believe honor should be given where honor is due. I think it is fine if someone wants to honor another for his fine work, once the work is already done. But I think the title by itself, particularly to gain respect from others is exactly what the Messiah was referring to.
Let us call someone a teacher because he teaches well. Let us call someone a rabbi because they have shown themselves good at teaching the Word of YHVH. Let us call someone a leader after they have led others well. Let us use a title to reflect accurately what the person does, not to demand respect. Let us remember that we are all brothers under the same Almighty YHVH.
Using titles like these in a congregation of brethren, particularly by the leader, is the first step in "lording it over" the brethren. The Messiah is the Lord and even He does not "lord it over" us.
But the greatest among you shall be your servant. Whoever exalts himself shall be humbled; and whoever humbles himself shall be exalted. Matthew 23:11-12
This is the defining element of the Messiah's leadership style. He was a servant and humbled Himself for our benefit of us. At the same time, He was the Messiah.
In sharp contrast, we have many leaders of the Messiah's flock who do the opposite of the Messiah. They prefer the leadership style of the world. They believe the path to good leadership is to promote and bless the leader. This includes such outward things as:
He should look handsome. He should have a fine title and everyone should know it. He should command great respect and support. He should be attired in a special way so others can easily distinguish him in the midst of the crowd. And he should never be called upon to do any mundane tasks that normal people do on a daily basis, such as take out the garbage.
Contrast the Messiah. He never promoted Himself; He promoted His Father. He chose humility over pride. He journeyed to the people to minister and heal. He hid in plain sight among the people, dressed unremarkably, and was known primarily for the content of His word and by His actual deeds. And, He is known for taking the garbage (our sins) out of our lives.
Humility (not seeking title) and service (deeds) are the basis of the Messiah's leadership style. However, following are a couple of specific and practical matters that also marked His style.
Exercising Good Judgment and Decision-Making Skills.
If you examine Paul's instruction for elders and deacons, you will find one common thread of wisdom. Consider the following traits that are essential to the work of overseer and congregational servant.
It is a trustworthy statement: if any man aspires to the office of overseer, it is a fine work he desires to do. An overseer, then, must be above reproach, the husband of one wife, prudent, respectable, hospitable, able to teach, not addicted to wine or pugnacious, but gentle, peaceable, free from the love of money. He must be one who manages his own household well keeping his children under control with all dignity (but if a man does not know how to manage his own household, how will he take care of the church of YHVH?); and not a new convert, so that he become conceited and fall into the condemnation incurred by the devil. And he must have a good reputation with those outside the church, so that he will not fall into reproach and the snare of the devil. Deacons likewise must be men of dignity, not double tongued, or addicted to much wine or fond of sordid gain, but holding to the mystery of the faith with a clear conscience. These men must also first be tested; then let them serve as deacons if they are beyond reproach. Women must likewise be dignified, not malicious gossips, but temperate, faithful in all things. Deacons must be husbands of only one wife, and good managers of their children and their own households. For those who have served well as deacons obtain for themselves a high standing and great confidence in the faith that is in Messiah Yeshua. 1 Timothy 3:1-13
 Did you notice the one leadership factor that was common in all of the characteristics listed? Did you notice that everything had to do with the ability to make good judgments and decisions without personal bias? The one that stands out most is how you lead your own house. If you cannot manage your own household well, how will you manage the family of YHVH?
The Personal Title you DO want to pursue.
Wait, I thought we were not to pursue titles that are descriptions of the work we do. Yes, that is right. Nevertheless, there is a title we do want to pursue, yet it is not one you hear often today. The bond- servant of Yeshua the Messiah.
Paul, John, Peter, James, etc. all referred to themselves as the bond-servants of Yeshua. Others called them Apostles. You do not need to pursue the title Rabbi, Pastor, Elder, or anything else. Others can call you that after you do the work. You need to pursue being a servant bound by the love for YHVH and let Him exalt you in His time.
If you are a Messianic Rabbi or Pastor reading this and someone gave you this article, let me speak with you personally. First, they are trying to help you, not hurt you. Stop following the world's style of leadership. Look to the Messiah for how to lead His flock and do His work. He is your best example. Look around you. Consider the position of those who think they are doing so well and accomplishing so much by elevating and promoting themselves in the faith. Remember the words of Messiah.
When you pray, you are not to be like the hypocrites; for they love to stand and pray in the synagogues and on the street corners, so that they may seen by men. Truly I say to you, they have their reward in full. Matthew 6:5
I tell you, this man went down to his house justified rather than the other; for everyone who exalts himself will be humbled, but he who humbles himself will be exalted. Luke 18:14
When you add up the characteristics of the Messiah's leadership style, you come away with a caring, unpretentious, humble, wise man who spoke the truth in love. Scripture admonishes us to follow His example – all of us, not just church or congregational leaders. There are teachers, bosses, coaches, and parents (to name a few) who lead and are in turn examples to others. We should all consider Yeshua's example for our lives and work it out in our lives, to be a blessing to others that they would see Messiah in us. That is part of coming to the knowledge of the Son of YHVH.